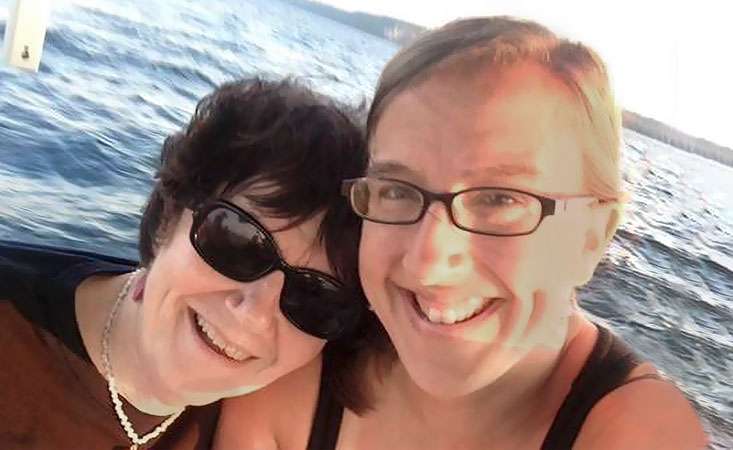 Editor's note: It's back to school time, and today we're republishing a story about teacher and PanCAN supporter Sonja Whipp.
Like mother, like daughter.
PanCAN volunteer Sonja Whipp always looked up to her mom, Joan, a university professor of education. She wanted to be like her – as a little girl, Sonja played school with her dolls and stuffed animals.
Her mom encouraged her to follow her dream and become certified as an English teacher. Sonja's been teaching middle school for nine years and loves it.
She said, "It's a privilege to have a front row seat to the next generation."
When her mom was diagnosed with stage IV pancreatic cancer in September 2016, she and her mom called PanCAN's Patient Services for help. Their case manager eased a lot of their anxieties.
"We used the Know Your Tumor® precision medicine service," Sonja said. "it confirmed that my mom was on the right treatment for her cancer."
Unfortunately, the cancer metastasized and Joan passed away six months later.
After a few months, Sonja attended her first PanCAN PurpleStride. She said it was such a healing event that it inspired her to learn more about PanCAN and get involved.
She started volunteering with PanCAN's New York City Affiliate and soon became the social media chair. Today she's the recruitment chair.
"I love connecting with the people in this community," Sonja said.
It's not surprising she's taken so easily to the role. As a teacher, she makes connections with her students so they get the most out of school.
"I wish more people understood that learning can be a joyful experience. Especially when students are given opportunities to learn in ways that best suit them.
"In a similar way, as volunteer recruitment chair, I chat with people looking to volunteer and help them find the most meaningful ways to do so," Sonja said.
She also thinks having a point person makes people feel welcomed to the affiliate.
Sonja misses her mom every day.
"She was loving, supportive and had a great sense of humor. Aside from teaching, her passions were gardening, travel, cooking, wine-tasting and supporting the arts – she was a true renaissance woman."
One of Sonja's favorite memories is a family vacation to Door County, Wis.
"My mom, dad and I took an amazing hike and I taught my mom how to take a selfie in the forest. For the rest of the trip, we would take selfies together!"
Sonja said she fundraises so PanCAN can support patients and their families, fund research, promote awareness and advocate for legislation.
She wants all pancreatic cancer patients to know, "You are why we do this work."
You can make a difference for pancreatic cancer patients.
Volunteer
with your local affiliate!