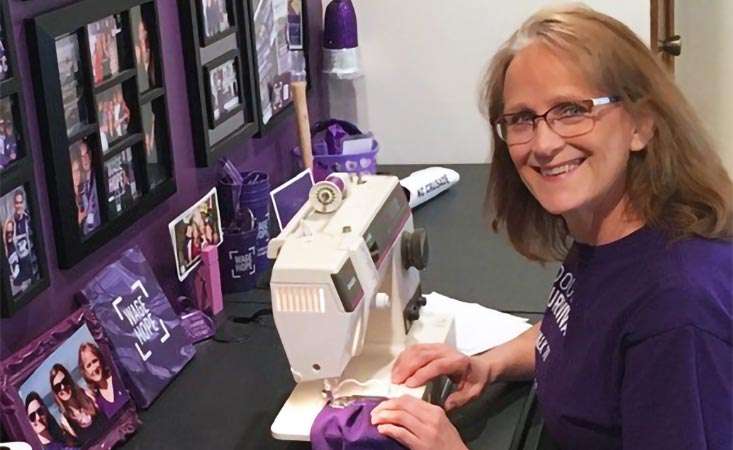 Not all heroes wear capes.
Some wear PurpleStride T-shirts, some don business attire, others choose yoga pants. It doesn't matter what they wear. They're heroes doing heroic things.
And those heroes are all of you.
In a world rocked by the coronavirus (COVID-19), we continue to be humbled by you – our generous volunteers and donors. Your giving hearts seem to have only grown.
In honor of Giving Tuesday Now, we share a few stories of volunteers and donors like you who have stepped up to help out still more in this pandemic.
Sewing masks for frontline heroes
Batman, Batgirl, The Flash. Most superheroes already sport a signature mask. But many of the superheroes doing good during this pandemic desperately need masks.
In the face of the global pandemic, PanCAN's unused PurpleStride T-shirts are getting a useful second life: as masks for frontline responders.
The idea was Charlotte Garrett's, a longtime PanCAN volunteer leader.
Even with a full-time job, a family and a full plate as November Awareness Chair and Sponsorship and Flagship Chair for the Pancreatic Cancer Action Network's (PanCAN) Kansas City Affiliate of volunteers, Garrett wanted to take on more – sewing masks for frontline responders.
When she became aware of the need, Garrett joined a group of volunteers through the PAMdemic Mask Brigade Facebook page. So far they've sewn more than 11,000 masks for healthcare professionals, firefighters, police officers, EMTs and the U.S. Armed Forces.
Garrett began volunteering in memory of her good friend, Mike. But she's met so many pancreatic cancer survivors who've become friends that her work isn't just for Mike anymore – it's for all patients and their families.
Garrett shared that, "Making the masks, trying to keep the front lines healthy, makes me feel good that I'm helping in a very small way."
Foundation gift helps now, where the need is greatest
Honoring the legacy of his partner, Rand Harlan Skolnick, is what inspires PanCAN board member Terrence Meck to give. Pancreatic cancer took Rand from him 12 years ago.
Meck, co-founder of The Palette Fund, has dedicated his life and his foundation to building healthy and thriving communities in his partner's memory.
Because it was people, and the relationships he had with them, that were Rand's greatest joy, The Palette Fund chooses to give generously to PanCAN's Patient Services whose case managers work one-on-one with patients and their families, offering support and resources when they need it most.
"It's important to us that no patient, family member or loved one has to face their journey with this devastating disease alone," Meck said.
When the pandemic hit, The Palette Fund stepped up to give even more love and support by allowing PanCAN to use their Patient Services gift wherever it was needed and even offering to disburse funds early in order to help more patients.
This is unprecedented.
"I remember too well how terribly paralyzing a pancreatic cancer diagnosis can be for a patient and their loved ones, and I can't imagine facing news like this during these especially troubling times," Meck said.
Meck summed it up it by saying, "The Palette Fund is here, and we will do whatever we can to help [PanCAN] through this crisis."
We are so grateful to Terrence and The Palette Fund for their continued giving.
Generous donor doubles her donation
Longtime PanCAN supporter Janice Illingworth lost her beloved husband Rich to pancreatic cancer in 2012.
She said it was her family's shared, "natural desire to do something that drew them to PanCAN." Participating in PurpleStride gave them the opportunity to come together in Rich's memory and gather for a common cause.
"I'm fortunate that one way I can contribute is through donations," says Illingworth.
This year, instead of making her usual generous annual donation to PanCAN, she doubled it.
"I realized that these difficult times may make it harder … [for people to support] PanCAN. I knew that it makes the commitment of others even more vital to continue this lifesaving work."
Illingworth shared that she will continue to donate to honor Rich's memory, in hope that survival rates keep improving, and eventually, no one will have to lose their battle against this deadly cancer.
PanCAN thanks these generous supporters and you. It is your tireless dedication to helping pancreatic cancer patients and their loved ones, particularly during these challenging times, that inspires us every day.
Please consider
making a gift
today to help pancreatic cancer patients. They need support now like never before.