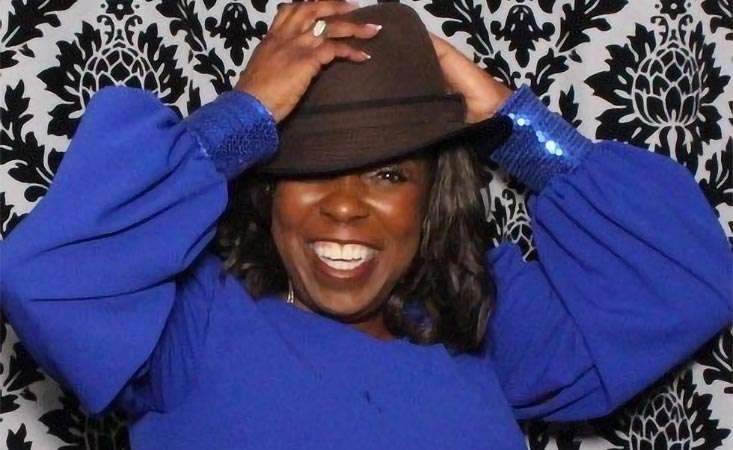 Editor's note: April 19-25 is Volunteer Appreciation Week, and we're celebrating, recognizing and thanking Pancreatic Cancer Action Network (PanCAN) volunteers by shining the spotlight on a few of the hundreds of volunteer leaders who embody passion, commitment and true grit in the fight against pancreatic cancer. Check back each day for a new story!
On any typical weekday, G. Paris Johnson from Drexel Hill, Penn., expects her phone to start ringing around 7 a.m. with calls from friends, family and clients asking tax-related questions. Trained in finance and tax affairs, Johnson works for the Internal Revenue Services (IRS) – a career she loves and says has brought her full-circle.
Join us
for a virtual event Thursday, April 23 at 7 p.m. ET/4 p.m. PT, where we'll share how volunteer efforts are making a big difference for patients!
"When I was diagnosed with pancreatic cancer in 2003, I was immediately taken out of work and told I would likely never go back, and likely wouldn't live," said Johnson, who recently turned 60. "But I refused to accept that. At age 44, I had too much life left to live and too much left to offer."
So, after surviving pancreatic cancer – including an intensive surgery to remove various tumors and organs, chemotherapy and radiation – Johnson opted for a career that would bring her joy and value. That came in the IRS, a company she first worked for while attending college in the late 1970s.
"I worked so hard to get back to work and back to a career I was passionate about," said Johnson. "I absolutely love my job."
But Johnson's passion doesn't stop at her full-time career.
She's an avid horseback rider, active member of her community, dedicated family person and a volunteer with the Philadelphia Affiliate of the Pancreatic Cancer Action Network (PanCAN).
Johnson first became involved with PanCAN in 2014 – more than 10 years after her own diagnosis – after learning about PurpleStride, the walk to end pancreatic cancer.
"I had no idea PanCAN existed, nor did I know there was a pancreatic cancer walk happening in my own community," remembers Johnson. "I was like, 'What walk? What stride?' The moment I learned about the event, I registered to participate and also raised my hand to volunteer. I was so excited to get involved."
With her background in finance, members of the local affiliate asked Johnson to take on the fiscal aspects of the yearly PurpleStride event. The opportunity to volunteer year-after-year gave Johnson a glimpse into PanCAN and the many ways it is fueling progress across the country.
Then, this past August, the Philadelphia Affiliate asked Johnson to step-into a leadership role that would better utilize her many skills and talents.
Now serving as Outreach Chair, Johnson is responsible for expanding the organization's presence locally by building relationships within the community, including nonprofits, healthcare providers, faith-based organizations and within community and business sectors.
"In this volunteer role, I get an opportunity to tell people how underfunded and horrible this disease is," said Johnson. "But, more importantly, I get to serve as an example that pancreatic cancer isn't a death sentence and encourage patients and their loved ones to never give up."
In her short time in the core role, Johnson has had many successes helping bridge the affiliate with well-known companies, brands and teams within the Philadelphia area.
Although many of these efforts have been put on hold due to the coronavirus, Johnson isn't slowing down or giving up. She continues to utilize outreach venues she can, like phone and email, to continue building relationships.
"There is strength in numbers and together, we will increase awareness," said Johnson. "One day soon, we will be as familiar as the color pink."
Of her time with PanCAN, Johnson recalls a moment at Philadelphia International Airport, waiting for a flight to an event with her fellow affiliate members.
"We had a lot of time together at the airport and it gave us an opportunity to get to know each other more personally," said Johnson. "I remember realizing in that moment that I now have another family of supporters. It was a powerful moment realizing the many connections volunteering has brought me."
And while Johnson wishes she knew of PanCAN and its resources like PanCAN Patient Services during her time as a patient, she is grateful for her involvement now, knowing there are no mistakes in her journey to becoming involved with the organization.
"Volunteering has helped me to no longer be silent," said Johnson. "It took me over 10 years to really sit up and do something about this. It's a blessing. Not only because of me surviving this disease, but because of the lives I now get to impact."
Join PanCAN's nationwide grassroots movement by becoming a
volunteer
.
Written by Cara Martinez