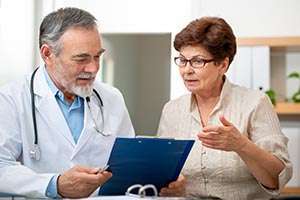 On This Page:
What Is Self-Advocacy?
Self-advocacy means speaking up for yourself. This includes:
Taking an active role in your cancer care
Talking to your healthcare and support team about your needs
Educating yourself
You are not the only person responsible for your care. Self-advocacy means getting help when you need it to make sure that all your needs, concerns and goals are being taken care of. This help can come from caregivers, friends, family members, advocacy organizations and healthcare professionals.
Self-advocacy differs for each person. Some patients involve themselves in every aspect of their care. Others just get a second opinion.
Why Is Self-Advocacy Important?
You are your own best advocate. The Pancreatic Cancer Action Network strongly recommends discussing your treatment goals with your healthcare team and knowing all your options at every stage of your disease.
Pancreatic cancer is not very common. General, community oncologists and surgeons may not often see patients with this type of cancer. They may not be as aware of new treatment advances and options available. You must play an even more active role in your healthcare in these situations.
Also, your healthcare team needs to know what your questions and experiences are and what is important to you. Without this information, they won't know what you need or how to address your concerns. Anyone diagnosed with pancreatic cancer needs to take an active role in their care.
How to Advocate for Yourself
Learn About Pancreatic Cancer
Educate yourself about the disease. The more you know about pancreatic cancer, the more time you and your team can spend discussing your specific case, treatment and next steps. For free, in-depth pancreatic cancer information, contact PanCAN Patient Services.
Get facts from your healthcare team about your specific diagnosis. Some questions to ask are: What type of pancreatic cancer do I have? Where is it located? What is the stage? Has it spread?
Always ask for a copy of your medical records and lab results. Keep them organized and easy to get to in case you need to look at them or give them to another healthcare professional.
Understand the treatment types.
Know Your Treatment Options
Get a second opinion from a pancreatic cancer specialist. Seeing pancreatic cancer specialists, physicians who diagnose and treat a high volume of pancreatic cancer patients, improves outcomes. The Pancreatic Cancer Action Network strongly recommends consulting with pancreatic cancer specialists who have experience diagnosing and treating the disease.
Ask your doctor about precision medicine. Precision medicine uses tests (biomarker testing of tumor tissue and genetic testing for inherited mutations) that tell you about your biology. Your doctor may use this information to make treatment decisions. Every pancreatic cancer patient is different, and patients who receive treatment based on their biology can live longer. The Pancreatic Cancer Action Network strongly recommends all pancreatic cancer patients get genetic testing for inherited mutations as soon as possible after diagnosis and biomarker testing of their tumor tissue to help determine the best treatment options. The tests can be available through your treating institution or PanCAN's Know Your Tumor® precision medicine service.
Consider clinical trials. Pancreatic cancer patients who participate in clinical research have better outcomes. Every treatment today was approved through a clinical trial. The Pancreatic Cancer Action Network strongly recommends clinical trials at diagnosis and during every treatment decision.
Do not wait for your doctors to bring up these tests or treatment options. Tell them what interests you.
For more free information about pancreatic cancer treatment options, contact a PanCAN Patient Services Case Manager. Case Managers can give you lists of specialists near you, run a personalized clinical trial search or connect you to the Know Your Tumor® precision medicine service. 
Communicate with Your Healthcare Team
Your healthcare team is critical in your journey. You should work with your team to make decisions together.
Clear and open communication with your healthcare team is key to receiving good cancer care. Talk to your healthcare professionals about your concerns, feelings and goals. Bring up any symptoms or side effects you have. Speak up for yourself.
You should feel comfortable and supported by your healthcare team. The Pancreatic Cancer Action Network strongly recommends seeking a healthcare team that suits all of your physical, mental and emotional needs.
Learn more about communicating with your healthcare team.
Ask for Help
Ask your friends and family members for help when you need it.
Talk to a social worker or patient navigator if one is available to you. This may be a nurse, social worker or employee trained to guide patients through the healthcare system. Ask your doctor or nurse if they can connect you with a patient navigator.
Talk to others going through this disease and learn from their experiences. The Pancreatic Cancer Action Network's Survivor & Caregiver Network connects patients and their families with others who have had similar experiences.
Support for the pancreatic cancer patient is critical to improve quality of life and overall well-being. Having a support system of caregivers, family, friends, healthcare professionals and a patient advocate is important to address and manage the needs of the patient.
Learn more about building a support system.
Understand the Financial Impact of Pancreatic Cancer
Keep track of your bills and check that you are charged the right amount.
Talk to the hospital if you do not have insurance or cannot afford your medical bills. See if you can negotiate fees before any medical procedure, set up a payment plan or lessen the amount you owe.
Understand your insurance policy if you have one. This includes coverage in- and out-of-network, limits, deductibles and co-pay amounts.
Contact your insurer if you have questions. If you do not get the answers you need, do not give up. Ask to speak to someone else or a supervisor.
Send an insurance claim or appeal, if needed.
We're Here to Help
Contact PanCAN Patient Services for more information about any of these topics or for answers to other pancreatic cancer questions.
Related Topics
News About Self-Advocacy
---
Information reviewed by PanCAN's Scientific and Medical Advisory Board, who are experts in the field from such institutions as University of Pennsylvania, Memorial Sloan-Kettering Cancer Center, Virginia Mason Medical Center and more.
Information provided by the Pancreatic Cancer Action Network, Inc. ("PanCAN") is not a substitute for medical advice, diagnosis, treatment or other health care services. PanCAN may provide information to you about physicians, products, services, clinical trials or treatments related to pancreatic cancer, but PanCAN does not recommend nor endorse any particular health care resource. In addition, please note any personal information you provide to PanCAN's staff during telephone and/or email communications may be stored and used to help PanCAN achieve its mission of assisting patients with, and finding cures and treatments for, pancreatic cancer. Stored constituent information may be used to inform PanCAN programs and activities. Information also may be provided in aggregate or limited formats to third parties to guide future pancreatic cancer research and education efforts. PanCAN will not provide personal directly identifying information (such as your name or contact information) to such third parties without your prior written consent unless required or permitted by law to do so. For more information on how we may use your information, you can find our privacy policy on our website at https://www.pancan.org/privacy/.
ul.purple-bullet li a {color: #490e6f;}