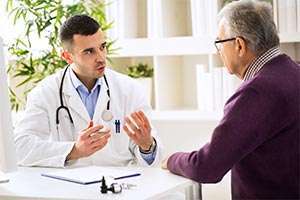 On This Page:
Clear and open communication with your healthcare team is key to receiving good care. But communicating with healthcare professionals can sometimes feel hard or stressful. This information can help you improve discussions with your team.
Before Your Visit
Prepare
Get the most out of your appointments by preparing in advance. Expect questions about your medical history and have your answers ready.
Come to the appointment knowing what needs and questions you want to communicate to your healthcare team. The following are steps you should take to prepare.
Keep a list of all your questions, concerns, feelings, symptoms and side effects. Note anything that has changed since your last appointment. Give this information to your healthcare team before the appointment and take a copy with you to the visit. Your team won't know what is on your mind unless you speak up.
Make a list of all medicines you take and their dosages. This includes prescriptions, over-the-counter medicines, vitamins, herbs and supplements. Bring this to the appointment. Tell your doctor about any medicine changes.
Pack something to bring with you to your appointment so you can take notes. This can be a pencil and notebook, tablet, laptop or phone with a notes app.
Get copies of your medical records and lab results to bring to the appointment.
Ask a caregiver to come with you. They can help you record and remember information from the appointment. They can also give your healthcare team information. They spend the most time with you and may be able to report changes. Also, have open and honest discussions with your caregivers, so they can better help you communicate with your team.
During Your Visit
Speak Up
Make good use of the time by asking about your most important symptoms or concerns first.
Be honest about everything with your team, even if it is embarrassing or different from what you know you should be doing. They need correct information to give you the best care.
Tell your healthcare team if you have personal, religious or cultural beliefs that may need to be considered in your treatment decisions.
Speak up if you don't think your team has answered your questions or considered your concerns enough.
Get Information
With your healthcare providers' permission, record the appointment.
Take notes to help you remember what your team says.
Ask your healthcare team questions to help you understand the disease, your diagnosis and treatment choices. Also, ask them to simplify any confusing or technical information until you understand.
Ask if your insurance will cover recommended treatments or procedures.
If you run out of time, ask how you can get the rest of your questions answered.
Share Your Treatment Goals
The Pancreatic Cancer Action Network strongly recommends that you discuss your treatment goals with your healthcare team and know all your options at every stage of your disease.
Your healthcare team is critical in making treatment decisions. But the patient should always be at the forefront. You should work with your entire team to develop a treatment plan that meets your individual needs.
Plan Your Next Steps
Work with your provider to plan next steps. For example, you could agree to look at the recommended treatment information and then contact the doctor next week.
Before you leave, find out how you should communicate with your healthcare team between office visits. Ask:
Whom do I contact if I have questions?
What is the best way (phone or email) to make contact?
How long should I wait for an answer to my question before reaching out again?
Can you give me an example of a side effect or concern that I should talk to you about right away? What about an example of something that can wait until our next visit?
If you are out of the office or away on vacation, whom should I call?
What do I do in an emergency?
Whom can I speak with about my financial or insurance concerns?
Between Visits
Get Support
Contact your healthcare team between visits if questions or concerns come up.
Ask for supportive care.
Ask your doctor or nurse if they can connect you with a patient navigator to help you manage your care. This person may be a nurse, social worker or an employee trained to help guide cancer patients through the healthcare system.
Contact PanCAN Patient Services for free, in-depth and personalized resources. This includes information about pancreatic cancer, treatment options, clinical trials, specialists, symptom and pain management, support groups, diet and nutrition and more.
Communicating with Your Healthcare Team Video
Watch this PanCAN Patient Services webinar for more information on how patients can have clear and open communication with their healthcare team.
We're Here to Help
For free, in-depth and personalized resources and information to support you throughout the pancreatic cancer journey, contact PanCAN Patient Services.
Related Topics
---
Information reviewed by PanCAN's Scientific and Medical Advisory Board, who are experts in the field from such institutions as University of Pennsylvania, Memorial Sloan-Kettering Cancer Center, Virginia Mason Medical Center and more.
Information provided by the Pancreatic Cancer Action Network, Inc. ("PanCAN") is not a substitute for medical advice, diagnosis, treatment or other health care services. PanCAN may provide information to you about physicians, products, services, clinical trials or treatments related to pancreatic cancer, but PanCAN does not recommend nor endorse any particular health care resource. In addition, please note any personal information you provide to PanCAN's staff during telephone and/or email communications may be stored and used to help PanCAN achieve its mission of assisting patients with, and finding cures and treatments for, pancreatic cancer. Stored constituent information may be used to inform PanCAN programs and activities. Information also may be provided in aggregate or limited formats to third parties to guide future pancreatic cancer research and education efforts. PanCAN will not provide personal directly identifying information (such as your name or contact information) to such third parties without your prior written consent unless required or permitted by law to do so. For more information on how we may use your information, you can find our privacy policy on our website at https://www.pancan.org/privacy/.