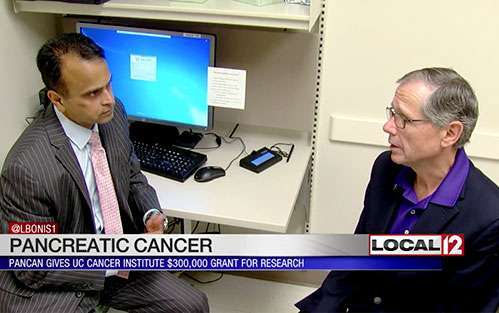 Earlier this month, our organization awarded 17 grants to 21 researchers at 12 institutions across the country through our competitive peer-reviewed Research Grants Program, which continues to make a significant impact in the field.
Vladimir Bogdanov, PhD, and Syed Arif Ahmad, MD, of University of Cincinnati were awarded the 2017 Gail V. Coleman-Kenneth M. Bruntel – Pancreatic Cancer Action Network Translational Research Grant for their research project: Disrupting Tissue Factor-beta1 Integrin Axis in Pancreatic Cancer to help pioneer medical breakthroughs that will improve treatments and outcomes for pancreatic cancer patients. The $300,000 award is funded by Gail Coleman of Alexandria, Va., who lost her husband, mother and father to the disease.
WKRC-TV in Cincinnati, Ohio, featured grant recipient Dr. Ahmad and pancreatic cancer survivor Maurice Bason in an exclusive inside look of Dr. Ahmad's work and what it could potentially do for the pancreatic cancer community.
The University of Cincinnati is represented for the first time in PanCAN's grants portfolio this year. This is an encouraging indicator that the research community continues to grow, fulfilling our key goal to increase the number of researchers and resources dedicated to fighting pancreatic cancer across the nation.
Currently, there is not a cure for pancreatic cancer. That coupled with no effective screening or early detection methods make it the nation's toughest cancer – claiming 91 percent of its victims within five years.
But there is hope.
In collaboration with our generous donors, we are accelerating research progress by focusing on innovative approaches to unlock the biology of pancreatic cancer, improve treatments and outcomes for patients and accelerate early detection methods.
Please visit pancan.org/2020 to help us double survival and raise $200 million by 2020.