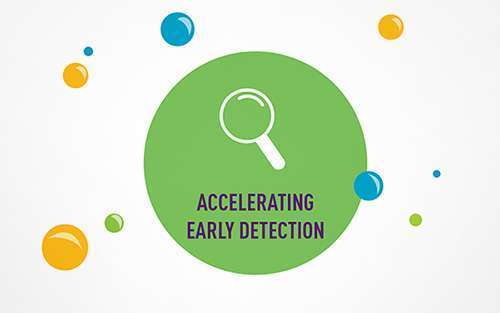 In 2017, the Pancreatic Cancer Action Network (PanCAN) awarded six grants to accelerate early detection for patients with pancreatic cancer, including five first-time early detection targeted grants. These grants were part of the 17 total 2017 research grants PanCAN recently awarded to 21 researchers at 12 institutions across the country.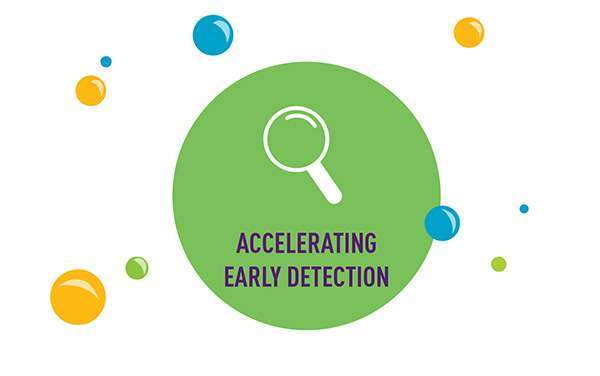 Why research early detection?
Because the pancreas is located deep within the abdomen, and because pancreatic cancer can progress very quickly from stage I (localized within the pancreas) to stage IV (metastatic disease), it is critical to develop early detection tools. At this time, there are no proven biomarkers, or clues detectable in the blood or other bodily fluids, that could indicate the presence of a pancreatic tumor.
The majority of pancreatic cancer cases are diagnosed in late stage. More than half of patients are diagnosed once the disease has metastasized. Only about 10 percent of cases are diagnosed when the disease is still confined within the pancreas.
Symptoms of pancreatic cancer — including abdominal or back pain, weight loss, jaundice, loss of appetite, nausea, diabetes and changes in stool — are often subtle and are generally initially attributed to other less serious and more common conditions. The cause of the vast majority of pancreatic cancer cases is currently unknown.
With PanCAN's goal to double survival by 2020, the organization supports early detection initiatives through our Research Grants Program. Through this research, we aim to develop early detection methods and risk assessment tools to detect and treat pancreatic cancer sooner and improve outcomes for patients.
Explore the novel research we are funding to accelerate early detection:
Learn more about all our 2017 grantees and make a gift today to support critical research.