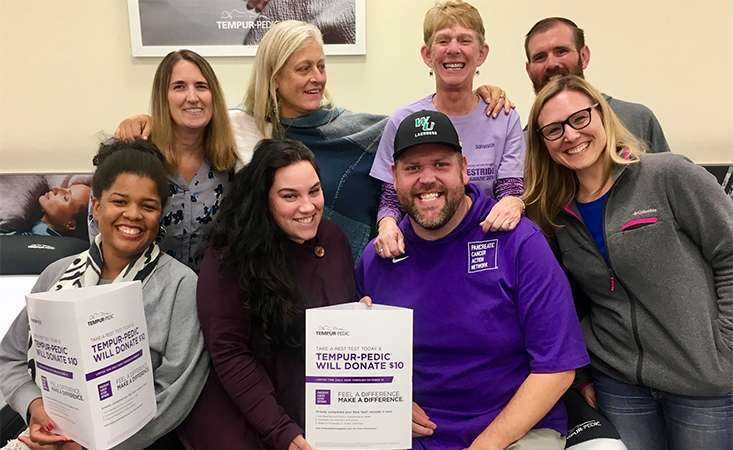 Editor's note: Today's installment of our 2019 Year in Review series highlights the commitment of leading Corporate Champion Tempur Sealy's overwhelming success of this year's annual Rest Test.
The 10th Annual Tempur-Pedic® Rest Test in 2019 was an all-out effort – and it resulted in a donation of more than $184,000, the largest Rest Test donation made to the Pancreatic Cancer Action Network (PanCAN).
Thank you to all PanCAN volunteers, affiliates, survivors, friends and family members who created record participation with their enthusiastic social posts and efforts.  And, we are grateful for the commitment of the Tempur Sealy staff and retailers, without whom there wouldn't be a Rest Test.
"Tempur Sealy is honored to support PanCAN through our annual Rest Test and we're particularly proud that so many retail locations supported this year's effort," said Jim O'Donnell, vice president and sales development for Tempur Sealy International.
"With nearly 4,000 locations participating this year, we were able to generate our largest Rest Test donation to PanCAN ever: $184,600. Thank you to everyone who took part in this year's Rest Test. Together, we are making a difference in fighting the world's toughest cancer."
A longtime PanCAN champion, Tempur Sealy has been key to raising awareness and funding for PanCAN, including a 2013 AACR Inaugural Research Acceleration Network Grant in memory of Tim Miller, brother of Tempur-Pedic executive Todd Miller, who died of pancreatic cancer in 2012.
"PanCAN and Tempur Sealy have worked hard to strengthen the opportunities and awareness of the Rest Test to the affiliates and volunteers across the country," said Matt Wilson, co-chair of PanCAN's National Volunteer Advisory Council and pancreatic cancer survivor.
"It was a powerful moment to take a group of volunteers to a local mattress store and see PanCAN and the Rest Test advertised all over the store. On behalf of PanCAN's volunteer network, we are so thankful for the support of Temper Sealy, for the opportunity to support and promote the Rest Test and the opportunity to partner with them to end pancreatic cancer."
Tempur Sealy has raised funds for PanCAN through a variety of programs: the Tempur-Pedic Hugs Back Teddy Bear campaign featuring (Tempur-Pedic teddy bears sold through retailers and online), the Tempur-Pedic Rest Test, employee giving and individual fundraising – more than $2.1 million to date, all in support of the vital services PanCAN provides for pancreatic cancer patients and their loved ones.