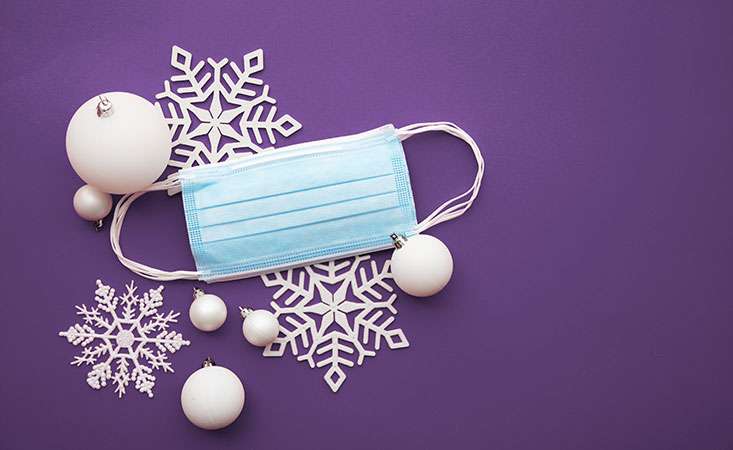 Editor's note, Dec. 22, 2021: Originally published in December 2020, we've made some updates to this article to pertain to the current winter season. Stay warm and stay safe!
Winter can be one of the most joyful seasons of the year. Hot cocoa, cozy sweaters, family, friends, holidays, celebrations of a new year.
But like many milestones throughout 2020 and 2021, this winter will be impacted by the coronavirus disease (COVID-19) pandemic.
In addition to risk and fears we're all experiencing, those with pancreatic cancer may be more vulnerable to COVID-19, especially those who are on treatment like chemotherapy.
Below are some tips from the Pancreatic Cancer Action Network (PanCAN) for staying safe and healthy during this winter season.
Make sure you're up to date with COVID-19 and flu shots. The COVID-19 vaccines are now authorized for use in people ages 5 and up. People ages 12 and older are encouraged to get a booster shot at least six months after their original mRNA vaccination (Pfizer or Moderna) or two months after their Johnson & Johnson shot. You are considered most protected at least two weeks after your vaccine. Flu shots are also recommended for everyone eligible.
Keep a close eye on local, state and national guidelines. Which businesses are requiring masks, proof of vaccination or a negative COVID-19 test? In addition to strict mandates and rules, watch for recommendations from the CDC and state and local governments. Make sure you're following all appropriate guidelines.
Stay outside when possible and keep your distance. Evidence has shown that risk of coronavirus transmission is decreased when people are outside. Weather permitting, try to make your in-person time with family and friends outdoors. If you're planning on gathering indoors, it's appropriate to ask all attendees their vaccine status and consider getting everyone tested before being together. And if you can't, it may be best to get your facetime via FaceTime (or Zoom, Google chat, etc.) to catch up and visit virtually.
Travel safely – and only when necessary. Wintertime – and especially the holidays – is often a chance to bring families together from across the country. If winter travel is in your or your family's future, watch guidelines and rules carefully. Be sure to stay masked and check your airline or other mode of travel's restrictions and what precautions they're taking to keep passengers safe. Also pay attention to numbers of cases and restrictions in place at your destination and along your journey.
Stay connected. Seasonal affective disorder – also known as the winter blues – may be more prevalent this year with the pandemic, physical distance from loved ones and other societal challenges. Please keep your family members and friends in mind – especially those with pancreatic cancer or other health struggles. Check in via video chat, send notes, cards and gifts in the mail and, if possible, drop off goodies on their porch. Virtual winter cheer can go a long way to boost someone's mood, especially this year.
If you or a loved one is experiencing symptoms of depression beyond the winter blues, please seek medical care immediately. PanCAN Patient Services can help connect pancreatic cancer patients and their caregivers with mental health resources and information about support groups and healthcare professionals who can help.
You can also reach out to your local PanCAN volunteer affiliate for information about upcoming meetings and events. Connecting with others who are going through similar challenges can be comforting. Your local PanCAN volunteer community may also be able to help if you are a patient who could use a little extra support this season.
And remember – hot cocoa, cozy sweaters, good books and nostalgic movies are safe and can be therapeutic, too!