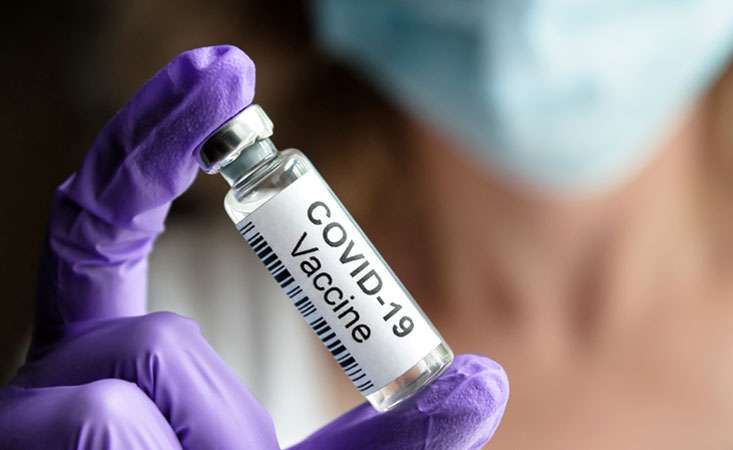 Editor's note: This article was originally published on Jan. 15, 2021. The most recent updates were made on Dec. 3, 2021, upon new information and instructions around booster shots. Also, you can learn about recommendations for flu shots for the 2021-22 season here. 
There are currently three vaccines authorized for use in the United States for adults. On Aug. 23, 2021, the Pfizer COVID-19 vaccine received FDA approval for use in people 16 years old and older. Pfizer's vaccine also has authorization for individuals who are 5-15 years old. On Jan. 31, 2022, the Moderna vaccine was approved by the FDA for individuals 18 and older. The Johnson & Johnson vaccines is authorized for people aged 18 and older.
Booster shots are now authorized for anyone aged 12 and over (Pfizer) or 18 and over (Moderna) who received the two-dose Pfizer or Moderna vaccine at least five months ago, and for anyone over 18 who received a Johnson & Johnson vaccine at least two months ago. The FDA and CDC are now allowing individuals to "mix and match" between the vaccines they originally got and the vaccines they receive as booster shots. As of Nov. 29, 2021, the CDC has strengthened its recommendation that everyone "should" get a booster shot once they're eligible.
You may have some questions about the effectiveness, safety and administration of the vaccines, especially for those who have preexisting conditions like pancreatic cancer, or those who are in close contact with patients. We also provide information about the booster shots.
Below please find some frequently asked questions about the COVID-19 vaccine answered by the Pancreatic Cancer Action Network's (PanCAN) Chief Medical Officer Anne-Marie Duliege, MD.
(New!) Should patients with pancreatic cancer and their caregivers get a booster shot?
All individuals over the age of 12 are authorized to receive a booster shot at this time. For those who originally received the two-dose mRNA vaccines (Pfizer or Moderna) the person needs to have received their second dose of their mRNA vaccine at least five months prior to the booster shot, and they can choose which vaccine they take as their booster.  Anyone who originally received the Johnson & Johnson vaccine can receive a booster shot of their choice at least two months after their original vaccine.
Patients with pancreatic cancer may be at an elevated risk of getting COVID-19 or becoming very sick from it, and the immunity granted from the original vaccination dose may lessen over time. Therefore, it's especially important for patients with pancreatic cancer and those who live with or spend a lot of time with patients to get their booster shots. Please speak with your healthcare team to determine if it is appropriate for you to receive a COVID-19 booster shot at this time.
What do the COVID-19 vaccines do?
There are currently three versions of the COVID-19 vaccine that have been shown to be safe and effective for use in the public in the U.S.
The goal of the COVID-19 vaccine is to protect the recipient from infection with the coronavirus. Clinical trial results showed that after complete vaccination (two injections for the Pfizer and Moderna vaccines, one for Johnson & Johnson), there was a significant decrease in risk of infection in vaccinated volunteers. In the rare instances where someone vaccinated still got infected, their disease has been less severe.
"Breakthrough" cases are possible – infection in individuals who are completely vaccinated – but they remain rare. And hospitalizations and deaths occur at significantly lower rates in individuals who are fully vaccinated against COVID-19 than those who are unvaccinated or incompletely vaccinated. Vaccinated people can spread the virus to others, especially with the presence of more transmissible and more infectious virus variants, like Delta and possibly Omicron. Many guidelines are recommending returning to indoor masking regardless of vaccination status; this is especially important if you or those you come into contact with may have a weakened immune system or other risk factors.
How did vaccines get proven safe and effective for use?
Like experimental treatments for diseases like pancreatic cancer, vaccines undergo rigorous clinical trials to make sure they're safe and effective.
Clinical trials for the COVID-19 vaccines happened remarkably quickly – partly because the foundational science and technology required for their development had been studied for many years before this pandemic hit. Another reason the clinical trials were so fast was because the virus is unfortunately so prevalent and easily transmissible that researchers could quickly determine whether the vaccinated had lower rates of disease than the nonvaccinated.
A third reason that the vaccines were able to go through testing so quickly was an unprecedented international collaborative effort, fueled by funding as well as the willingness of volunteers to participate in the clinical trials.
It's important to note that the speed of the clinical trials does not undermine their rigor. Every appropriate step was taken, and all data were carefully analyzed to show that the vaccines are safe and effective over the period of time the volunteers have been followed.
How is the COVID-19 vaccine administered?
All three COVID-19 vaccines available in the U.S. are injected into the recipient's muscle, typically their shoulder. The Pfizer and Moderna vaccines require two doses – separate injections administered three or four weeks apart. The Johnson & Johnson vaccine only requires one injection.
What are the side effects of the COVID-19 vaccine?
The side effects from all three vaccines are typically mild and may include pain and swelling at the injection site, fever, chills, tiredness and headache, according to the CDC.
As with other medications and vaccines, some individuals may experience severe allergic reactions (anaphylaxis) to a COVID-19 vaccine. If you have a history of severe allergic reactions from other vaccines or injectable therapies, it is important to consult with your healthcare team to determine if the COVID-19 vaccine is appropriate.
Are COVID-19 vaccines safe for people with pancreatic cancer?
The clinical trials studying COVID-19 vaccines did not include people with health conditions like cancer, so there are no data on the vaccine's effects on cancer patients. We recommend discussing with your healthcare team, who will weigh the risks of the vaccine's possible side effects versus its benefit of preventing a COVID-19 infection.
There is no evidence to suggest that these vaccines would not be safe for cancer patients. Healthcare teams have experience providing other types of vaccines to cancer patients and would be able to determine if and when it may be most appropriate for a patient to receive a COVID-19 vaccine. For example, in order to optimize effectiveness of these vaccines, oncologists may choose to administer them between treatment cycles.
Those in close contact with pancreatic cancer patients should consider getting vaccinated for their own safety as well as the health and safety of their loved one.
Can patients receive the COVID-19 vaccine while participating in a pancreatic cancer clinical trial?
You should contact the clinical trial site to find out if receiving a COVID-19 vaccine will impact your eligibility or continued participation in the study.
Receiving a COVID-19 vaccine will not affect a patient's eligibility or continued participation in PanCAN's Precision PromiseSM adaptive clinical trial, which is now enrolling patients.