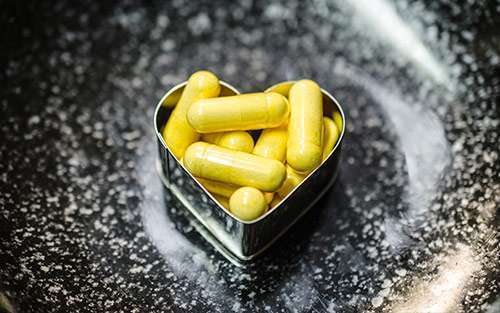 Pancreatic cancer and/or surgery to remove a pancreatic tumor can lead to changes in a patient's digestive tract that can affect their ability to digest food. Having an insufficient amount of pancreatic enzymes – which help break down fats, proteins and carbohydrates – is a common problem for patients. Because pancreatic enzymes are critical for digestion and the absorption of nutrients, supplemental pancreatic enzymes can be helpful as a digestive aid.
When taken properly, pancreatic enzymes can help prevent weight loss and control the immense discomfort (indigestion, cramping after meals, etc.) associated with pancreatic enzyme insufficiency. But regulating the usage of these enzymes is extremely important.
According to recent findings gathered through the Pancreatic Cancer Action Network's (PanCAN) Patient Registry, patients' digestive symptoms improved with the appropriate use of enzymes via pancreatic exocrine replacement therapy (PERT). However, PERT was not always prescribed appropriately and many patients are not complying with the guidelines.
Here are six things every pancreatic cancer patient should know about pancreatic enzymes:
It's important to discuss with a doctor or dietitian the appropriate type and dose of pancreatic enzymes during regular visits.
Pancreatic enzymes are available in both prescription and non-prescription forms. Prescription pancreatic enzyme products are regulated by the Food & Drug Administration. Over-the-counter pancreatic enzyme supplements are available without a prescription but are not recommended for people with pancreatic cancer since they are not thoroughly regulated.
Some patients who have the Whipple procedure will need to take supplemental enzymes for life. Other patients may only need enzymes for a few months or years after surgery.
The recommended brand and dosage of pancreatic enzymes must be individualized for each person. When you find a brand that works, it's recommended to continue using that brand.
For best results, take enzymes with every meal or snack that contains fat, especially meat, dairy, bread and desserts. Enzymes generally do not work well if forgotten and only taken at the end of the meal. Start with the smallest dose necessary and adjust according to the severity of the pancreatic insufficiency symptoms. According to the Patient Registry survey on enzymes, symptoms such as feelings of indigestion and weight loss were notably decreased when patients took their enzymes correctly.
The most common side effect of pancreatic enzymes is constipation. They may also cause nausea, abdominal cramps or diarrhea, but these symptoms are less common.
The bottom line? Good nutritional care improves outcomes and is critical for pancreatic cancer patients' quality of life. PanCAN strongly recommends that patients have access to pancreatic enzymes and see a registered dietitian.
Join us for a webinar on Monday, March 19, titled, "Optimizing Nutrition," which will include tips for getting the best results from pancreatic enzymes.
For a free Diet and Nutrition Booklet or for more information about pancreatic enzymes, diet and nutrition for pancreatic cancer or any other topics related to the disease, contact PanCAN Patient Services.