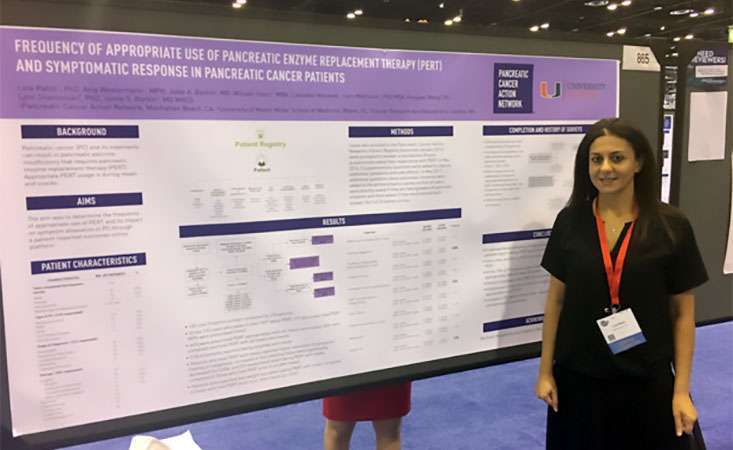 Good nutritional care improves outcomes and is critical for a patient's quality of life. The Pancreatic Cancer Action Network (PanCAN) strongly recommends that patients have access to pancreatic enzymes and see a registered dietitian.
When pancreatic enzymes are prescribed to pancreatic cancer patients correctly and taken as instructed, symptoms improve, study shows.
Results gathered from the Pancreatic Cancer Action Network's Patient Registry were presented at the annual World Congress of Gastroenterology at ACG2017 meeting today in Orlando, Fla. Data collected found that digestive symptoms improved with the appropriate use of enzymes via pancreatic exocrine replacement therapy (PERT). However, PERT was not always prescribed appropriately and many patients are not complying with guidelines.
Findings were presented by Lola Rahib, PhD, scientific project manager for PanCAN. Along with other members of PanCAN's scientific and medical affairs team, the project was conducted in collaboration with researchers at the University of Miami Miller School of Medicine, who provided clinical knowledge about the use of PERT, as well as Cancer Research And Biostatistics (CRAB), who contributed statistical analyses of the data.
The research study was conducted over an 18-month period in which users enrolled in PanCAN's Patient Registry were prompted to answer a 30-part questionnaire about their experiences with PERT. Users who are taking PERT were more likely to answer the stand-alone questionnaire. However, when asked randomly, only 50 percent of users reported taking PERT and 24 percent were unaware of PERT.
Of the 218 users who answered the stand-alone PERT questionnaire, 84 percent of patients discussed PERT with their healthcare professional. Of those, 90 percent were prescribed the therapy. However, only 64 percent of patients who were prescribed PERT were correctly instructed on how to take the medication. When prescribed correctly, overall patient compliance with PERT administration guidelines was low, at just 38 percent.
"Pancreatic insufficiency is the inability of the pancreas to secrete the enzymes needed for digestion, causing extreme digestive discomfort," said Rahib. "When administered correctly, PERT replaces the enzymes needed to break down food and alleviates some of the digestive symptoms of pancreatic cancer. It is imperative that pancreatic cancer patients and their healthcare providers are educated about appropriate PERT usage so that patients are living a better quality of life."
The study concluded that patients who take PERT with meals versus before or after meals reported significantly higher alleviation of symptoms including feeling of indigestion. Also, patients taking PERT with meals reported significantly less weight loss compared to those taking it before or after meals.
"Our Patient Registry allows the compilation of data from patients throughout the country describing their experiences and challenges with pancreatic cancer," added Rahib. "Presenting these important findings at the American College of Gastroenterology annual meeting allows other researchers and clinicians to learn from patient experiences and underscores the importance of physician and patient education about the proper use of pancreatic enzymes."
For more information about pancreatic enzymes or these research findings, please contact PanCAN Patient Services.