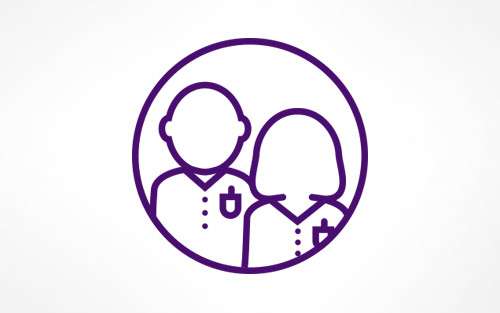 Happy International Day of Women and Girls in Science!
Today is the perfect opportunity to show appreciation for the Pancreatic Cancer Action Network's (PanCAN) outstanding female leaders who use their scientific expertise to fight pancreatic cancer every day. Along with  research grantees and members of the organization's Scientific and Medical Advisory Board, these accomplished and dedicated women use their experience and background in science to address important needs within the organization.
The entire PanCAN community is grateful for their dedication, which has pushed the fight against pancreatic cancer forward.
Learn more about Lynn Matrisian, PhD, MBA, Allison Rosenzweig, PhD, Maya Bader, PhD, and Lola Rahib, PhD, and what they're most proud of when it comes to their work at PanCAN.
---
Lynn Matrisian, PhD, MBA
As chief science officer, Matrisian brings extensive experience and a passion for cancer research, combined with business training, to lead the organization's scientific and medical affairs teams as they strive to improve patient outcomes.
"I find it very rewarding that we've been able to marry patient support with research to create our clinical initiatives. The services we provide help patients that are facing pancreatic cancer today at the same time as benefiting patients in the future through research – we are constantly analyzing, building upon and sharing our findings."
Matrisian holds an MBA from Owen Graduate School of Management at Vanderbilt University. Her PhD is in molecular biology from the University of Arizona in Tucson.
Allison Rosenzweig, PhD
Rosenzweig is the senior scientific communications manager, working on written materials for the website, emails and other communications about biomedical research taking place in PanCAN grants and in the field. Her main focus is on providing lay-level descriptions of pancreatic cancer research news, including laboratory science and clinical results.
"I love being able to make science interesting, understandable and relevant to all of our constituents.
"I was particularly proud of our team's efforts to write about a very exciting drug approval – Keytruda was approved to treat any solid tumor, including pancreatic, with specific molecular alterations. Our summary of this news and its context led to patients and family members contacting PanCAN Patient Services, inquiring about our Know Your Tumor® precision medicine service and determining their eligibility for Keytruda or other targeted therapies."
Rosenzweig holds a PhD in cellular & molecular biology from the University of Michigan. Her BS is in molecular biology from University of California, San Diego.
Maya Bader, PhD
Bader is the scientific grants associate director at PanCAN. She is responsible for all scientific aspects of the organization's grants program. She conducts both pre-award and post-award management to ensure that the selection process and grant term run smoothly and efficiently.
"My proudest accomplishment is establishing a new grant mechanism from the ground up, such as the Catalyst Grant. It's important for us to listen to the scientists and determine their needs – and this grant is designed to meet those needs.
"It's extremely satisfying to take that feedback all the way from an idea to a funding mechanism. Further, I am always proud to play a part in the research grants program when we see our grantees gather at our Annual Scientific Meeting, and their immense scientific talent is on display."
Bader holds a PhD in biological sciences from The Rockefeller University, New York, and a B.Sc in biology and biotechnology from Tel Aviv University.
Lola Rahib, PhD
Rahib is the associate director of scientific initiatives, working closely with the chief science officer on special projects, including design and data analysis for Precision PromiseSM, Know Your Tumor and Patient Registry as well as annual metric analyses and other research projects.
"I am very proud of my involvement with several papers that were published with the PanCAN team. I'm most proud of our Cancer Research paper that predicts pancreatic cancer will become the second leading cause of cancer-related death in the United States around 2020. The study has raised much-needed awareness for the disease and its urgency."
Rahib has a MS and PhD in biomedical engineering from University of California, Los Angeles. Her BS is in chemistry/biochemistry from California State University, San Marcos.