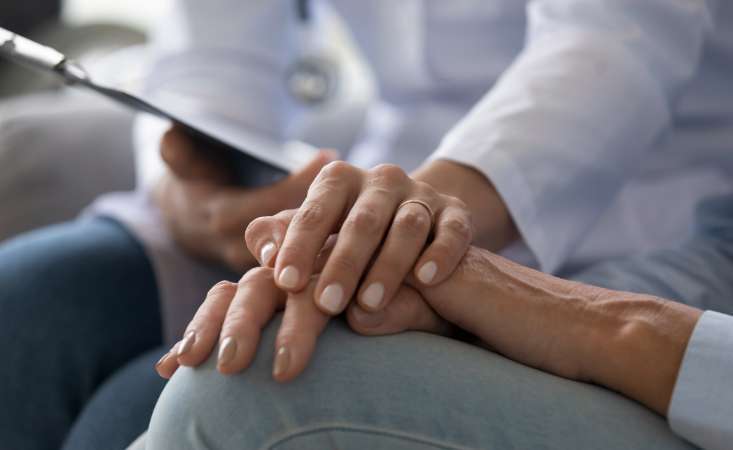 If you or a loved one has been diagnosed with pancreatic cancer, you may be wondering things like, what stage is the cancer? Can the tumor be removed with surgery? What are the best treatment options? And the questions certainly don't stop there.
First and foremost, don't try to handle the diagnosis alone. The Pancreatic Cancer Action Network's (PanCAN) Patient Services is here to help every step of the way. PanCAN's highly trained and compassionate Patient Services staff provide free, personalized information about the disease, including treatment options and support services. They can also find resources for any questions you have related to pancreatic cancer.
Below are eight important things to know about a pancreatic cancer diagnosis.
Know that seeing pancreatic cancer specialists, physicians who diagnose and treat a high volume of pancreatic cancer patients, improves outcomes. PanCAN strongly recommends consulting with pancreatic cancer specialists who have experience diagnosing and treating the disease. Be willing to travel, if you can, and get a second opinion on your diagnosis and plan of action.
Know what type of pancreatic cancer it is. Pancreatic tumors are either exocrine or neuroendocrine, based on the type of cell they start in. While the exocrine type (adenocarcinoma) is the most common, knowing the type of tumor is important because each type acts differently and responds to different treatments.
Know what stage the pancreatic cancer is, and what it means. The stage of the disease is important because it helps doctors determine treatment choices by stage.
Ask if the patient is eligible for surgery. Although 20 percent of pancreatic cancer patients may be eligible for surgery, up to half of those patients are told they are ineligible. PanCAN strongly recommends you see a surgeon who performs a high volume of pancreatic surgeries (more than 15 per year) to determine eligibility. For eligible patients, surgery is the best option for long-term survival of pancreatic cancer.
Know that every pancreatic tumor is different. PanCAN strongly recommends molecular profiling of the tumor to help determine the best treatment options.
Know all your treatment options, including clinical trials. Pancreatic cancer patients who participate in clinical research have better outcomes. Every treatment available today was approved through a clinical trial. PanCAN strongly recommends clinical trials at diagnosis and during every treatment decision.
Know that it can be helpful to bring another person to medical appointments. The amount of information from healthcare professionals after diagnosis can be overwhelming, and a friend or family member can be supportive, provide an extra set of ears and ensure that all questions are answered.
Arm yourself with a support system of people who can be there for you in different ways. PanCAN's Survivor and Caregiver Network can help. Having the support of caregivers, family, friends, healthcare professionals and Patient Services is important to address and manage your needs.
Take a look at PanCAN's comprehensive list of recommended questions for your healthcare team.
PanCAN strongly recommends seeking a healthcare team that suits all of your physical, mental and emotional needs. And remember, as a patient, you are your own best advocate.
Above all else, whether you are the patient or the caregiver, arm yourself with information. The feeling of empowerment is critical when it comes to cancer.