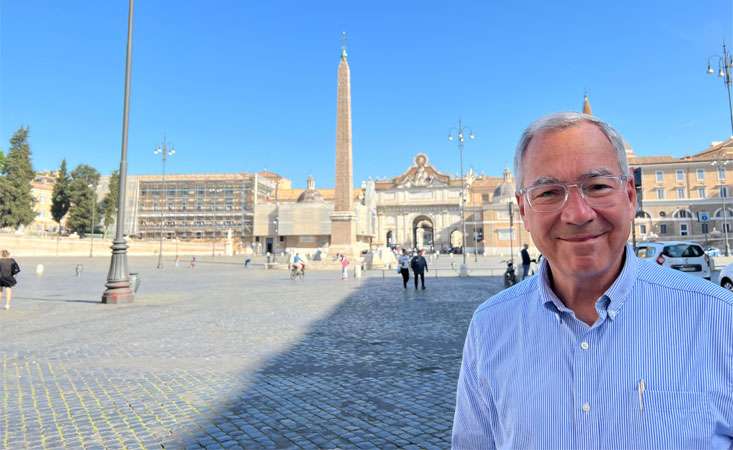 Editor's note: PanCAN would not be the organization it is without its tireless and dedicated volunteers. To celebrate Volunteer Appreciation Week, we're highlighting PanCAN volunteer, Indianapolis Outreach Chair and pancreatic cancer survivor Marty Hynes.
Marty spoke with PanCAN Community Engagement Coordinator Paula Mukherjee about his role as a volunteer, the importance of clinical trials and advice for fellow survivors.
Paula: PanCAN Outreach Chairs are tasked with promoting PanCAN's mission at the local level. Why is this particularly important to you?
Marty: I am a pancreatic cancer patient and I feel the only way we can combat this disease is to all use our talents to try to make a difference. One, by helping patients navigate the complexity of this disease. Two, by encouraging people to work in the field of pancreatic cancer research. Three, by advocating for an increase in research funding so more basic and clinical research can be done.
Paula: How did you first find PanCAN?
Marty: I found PanCAN months after I got diagnosed, unfortunately. It would've been very nice if I had found PanCAN right off. I was diagnosed during the pandemic. The day after my ERCP procedure, I ended up with pancreatitis. That put me in the hospital, but I was the only person in the hospital who did not have COVID-19. I was quarantined and stuck in my room. Thankfully, I had my electronic devices and started looking around online. One of the things that we've been working on in Indianapolis is increasing awareness among healthcare providers about the services PanCAN provides so they can pass this incredibly useful information on to newly diagnosed patients.
Paula: What are some volunteer goals that you have for 2023?
Marty: I'm still fairly new to this volunteer role; I came on in late September of last year. Our goal then was to get ready for Pancreatic Cancer Awareness Month in November by reaching out to a variety of different groups: nurse navigators, Indiana University School of Medicine, big healthcare networks, pancreatic surgeons, and oncologists.
What we need to do for 2023 is build on that success. We were very fortunate to get a lot of traction last year, and that was the first year that a lot of activities had begun again following the pandemic. The medical school has a full-day symposium devoted to pancreatic cancer, the Andrea Gianaris Pancreatic Cancer Symposium, and we were able to speak at it and have a PanCAN table. We want to continue these activities, and include additional ones, in 2023.
Paula: How has the experience working with your fellow volunteers been so far?
Marty: The whole team is absolutely wonderful. They're a group of very dedicated and hard-working individuals. It's a very good group to work with. They're very diligent, committed, and collaborative. We all come from different backgrounds, and everybody uses their skills and expertise to help us move forward in the local mission.
Paula: That's something really special – the local community that you can be a part of and also help build.
Marty: Yes. They're just starting to have face-to-face meetings again. It's been nice to connect with them over Zoom, but there's nothing like meeting face to face. We've been fortunate to have had a number of face-to-face meetings recently, which just helps tremendously.
Paula: I looked at the PanCAN PurpleStride Indianapolis website and saw that you already hit your team goal! Do you have any suggestions for our fundraisers?
Marty: It is hard to ask people for money, right? There are so many good causes. To me, it's when people see the good work that is going on and begin to say, "How can I help?" Sometimes that help is sweat equity; they're volunteering, reaching out to newspapers, reaching out to buildings to put up purple lights in November, and things of that nature. Others don't have the luxury of time to volunteer, but they're willing to help in other ways, such as by making a financial contribution.
Paula: How was your first PurpleStride last year?
Marty: It was great. It was a wonderful event. It was a good opportunity to network with a variety of people. I was able to go around and thank our sponsors for what they're doing. As a patient, I'm particularly grateful, because it's money that will make a difference by funding more research and patient support.
Paula: I'd love to hear about your career and how that has shaped your work with PanCAN.
Marty: I trained in pharmacology and did a postdoctoral fellowship in molecular biology at the Roche Institute of Molecular Biology. Then I spent 36 years with Eli Lilly and Company. Lilly is one of the top 10 pharmaceutical companies, and we're located here in Indianapolis. I was always on the research side of the business, which is where I love to work. I was very fortunate to have the opportunity to lead the clinical group in our Japanese affiliate. We lived for a number of years in Japan, and I ran our clinical trials. We ran clinical trials for Gemzar, which was the first line of therapy for pancreatic cancer until a couple of years ago.
I've always been very interested in clinical research and bringing innovative molecules to the market. When I left Lilly after 36 years, I worked on the Ebola pandemic, developing monoclonal antibodies for the treatment of that hemorrhagic fever. Now I focus on making a difference with PanCAN, looking at drugs to treat pancreatic cancer, and following all the clinical trials related to pancreatic cancer.
Paula: I can only imagine how much your expertise must help when doing outreach and explaining why clinical trials are important.
Marty: I've seen clinical trials make a huge difference in people's lives. But these clinical trials are extremely expensive to execute. Basic research programs are very expensive. When you have a background in research and development, it helps you understand how long it takes to develop new treatments and how much it costs. This background is extremely helpful when I'm having a conversation with our public servants in Washington, D.C., and explaining what we need to invest to make a difference. Even though these research activities are expensive, we need to look at them as an investment because they will pay huge dividends in saving lives.
Paula: What advice would you give to other survivors who might be interested in getting involved as a volunteer?
Marty: My view of all of this is: you play an important role in saving your own life. You've got to be a partner with your medical team, and you've got to help change the current funding paradigm. The amount of money that we put into pancreatic cancer as a nation is woefully low. PanCAN has done a great job of raising money and putting money into research, but we need a lot more money. I was fortunate enough to be able to participate with the Indiana delegation during PanCAN Action Week. We talked to our representatives and asked them to increase federal funding for this disease. If I want to live, I've got to be out there advocating for a change in funding. If I want to live, I've got to be out there advocating for PanCAN Patient Services. That's not only important for me as a patient, but it's important for others. You've got to be the change you want to see. You've got to be out there helping patients understand the services that are available.
Paula: Yes, and the work that you're doing is going to help people who haven't even been diagnosed yet.
Marty: That's the goal. We need to make it different for people who will be diagnosed next year and 10 years from now. The only way you can do that is work at it. You've got to roll up your sleeves and do something. PanCAN volunteer opportunities provide people with the chance to make a difference for themselves and, more importantly, for others.