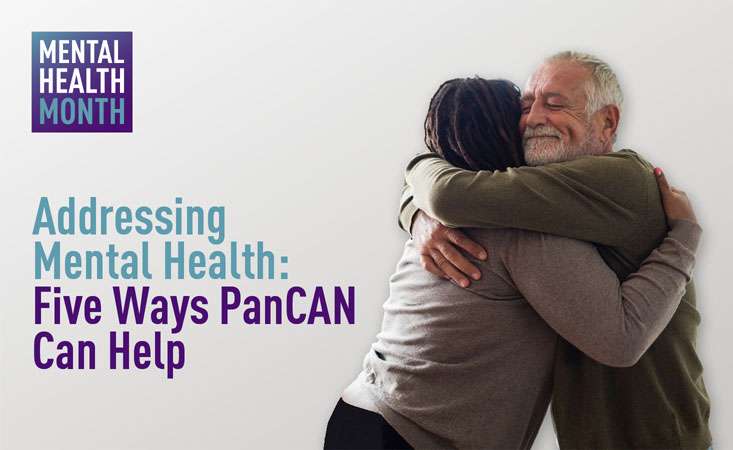 PanCAN Patient Services Manager of Research and Education Communications Nicolas Clifford, MS, has two messages for patients with pancreatic cancer and caregivers who may be struggling with their mental health.
One: You are not alone. And two: There are many people out there ready to help and support you. This care may come in different forms for different people – it could mean joining a support group, connecting with a fellow survivor or caregiver, talking with a member of the clergy or finding a mental health counselor.
There's no one right path to take care of yourself, said Nicolas. The most important thing is to address any challenge you're experiencing – just like you would any symptom or side effect.
"If you have chronic pain or a lingering cough, you would bring it up to your doctor," said Nicolas. "The same should go for feelings of depression, anxiety and PTSD, all common for both pancreatic cancer patients and their loved ones. Just like addressing physical symptoms can make recovery and treatment more successful, tackling mental health issues can help improve overall well-being and may improve response to treatment."
For caregivers, it's equally important to seek support. So many complex emotions and demands come with caring for someone facing a cancer diagnosis, said Nicolas, that it can be difficult to address your own health needs. But taking the time to stay healthy can make a huge difference.
"Whenever someone is diagnosed with cancer, it can feel like the whole world is upside down," he said. "Suddenly, the things we value change. Schedules have to be changed to make time for the doctor and the demands of treatment mean that some caregivers may have to take some time off of work to care for their loved one. It can be hard to prioritize mental health as a caregiver, but it is important to avoid burnout and exhaustion."
Oncologists, social workers, nurses and other healthcare team members are there to help caregivers as well as the patient, said Nicolas, so loved ones should not feel afraid to bring up any personal struggles to them. Above all, it is important to communicate needs early and often.
"Most cancer treatment clinics have physicians, social workers and supportive or palliative care practitioners who consider caregivers an important part of the cancer journey," he said. "They are there to help with feelings of burnout, exhaustion and more, since this can impact treatment."
During National Mental Health Month, PanCAN is shining a light on how important it is to have a strong support system to improve quality of life and overall well-being. Some research has shown that mental health may play a role in cancer survival, findings that emphasize the importance of getting appropriate resources to maintain your mental health after a pancreatic cancer diagnosis.
Here are five ways PanCAN can help connect patients and caregivers with mental health support:
1. Cancer Support Groups
PanCAN Patient Services Case Managers can help find a cancer support group that meets in-person or online. Pancreatic cancer-specific support groups provide an opportunity for patients to discuss issues that are unique to this disease and to learn how others have managed specific symptoms or emotional concerns.
2. PanCAN's Survivor and Caregiver Network
Sometimes it helps to talk with a person who has been through a similar situation. PanCAN's Survivor and Caregiver Network is made up of volunteers throughout the country who are available to communicate one-on-one with those diagnosed with pancreatic cancer, their loved ones or anyone looking to connect with someone who has experienced pancreatic cancer. These relationships can serve as a source of inspiration and hope, as well as a way to share practical information.
3. Mental Health Professionals
PanCAN Patient Services provides pancreatic cancer patients and caregivers with resources that can help them connect with a counselor or mental health professional. These health professionals can be a critical member of a person's care team – just like a dietitian or oncologist. PanCAN often refers patients to cancercare.org, a collaborative of social workers who offer virtual counseling tailored to the needs of those facing a cancer diagnosis.
4. Supportive Care
Supportive care – sometimes referred to as palliative care – is often mistakenly thought of as only an option for end of life. That's not the case: Supportive care is focused on comfort, quality of life and the patient's total well-being at all stages of the cancer journey. It includes treating the physical, emotional, social, spiritual and practical concerns of a patient and is often helpful for family and caregivers as well. Contact PanCAN Patient Services to learn more and to find options in your area.
5. Stories of Hope
PanCAN's vibrant community offers many opportunities to find connection through sharing stories. Reading PanCAN's Stories of Hope -- featuring survivors, caregivers, volunteers, researchers and others – and following PanCAN on social media can be a source of hope and inspiration.