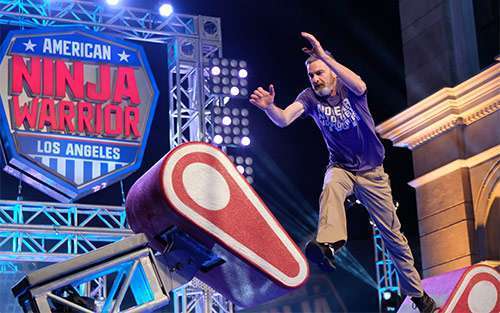 Last March, we shared the story of Joe Heiden, a 46-year-old pancreatic cancer survivor who competed in the qualifying-round of NBC's "American Ninja Warrior." Last night, Joe was surrounded by family and friends as he watched his national television debut as an American Ninja Warrior.
"Competing at that level on national television was the realization of a dream I had as a kid," Joe said. "Being able to show my daughters what one can achieve when they believe in themselves and don't give up was a great gift that I am extremely thankful for. My goal for next year is no longer to hit one buzzer, but to hit six buzzers and bring home the $1 million."
Millions of viewers across the country watched as Joe made it through the first obstacle, the quintuple steps, with poise. For the second obstacle, Joe glided down the cannon ball drop. Upon dismounting, he held on a little too long, causing him to fall backwards into the water. Joe didn't get a chance to Beat! That! Wall!, but he is determined to get another chance next year.
"As I watched with my family and friends, I couldn't help but think about how powerful intention can be," Joe said.  "It was heartwarming to see how many people showed up to watch and support my family's fight against pancreatic cancer."
Joe continues to beat the odds as a pancreatic cancer survivor providing hope to all those who have been touched by this terrible disease through his volunteer efforts with PanCAN.
"I want to bring more awareness to the disease, inspire others impacted by it and raise money to find early detection methods for pancreatic cancer," Joe continued. "When I was first diagnosed, I was not happy with the fact that there was so little hope. I want to change that."
Click here to read more of Joe's story. To learn more about our organization, please visit www.pancan.org.