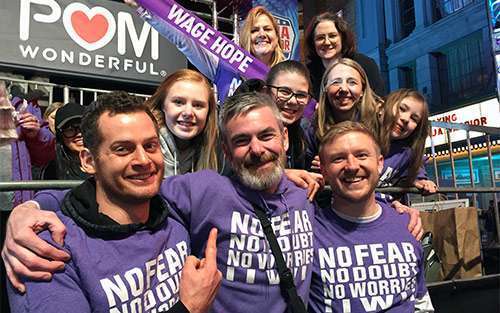 Joe Heiden, 46, survived the deadliest major cancer, but even more inspiring has been his outlook on life after beating the disease. With determination and a can-do attitude, Joe has continued to do things that even the healthiest of people might consider impossible.
Joe was diagnosed with pancreatic cancer in October of 2014. Shortly after his diagnosis, he underwent chemotherapy in conjunction with an immunotherapy clinical trial to shrink his tumor. The treatments were successful, and seven months later, surgeons were able to remove his tumor. This, in and of itself, is a major accomplishment, but Joe didn't rest for long.
After his surgery, he weighed about 135 pounds. He needed to gain weight, and it was then that he decided to start training for a chance to compete on the action-packed, competition-based TV series "American Ninja Warrior" as a fun way to build muscle. He found that breaking down and building muscle not only helped him build mass, but also improved his digestive system, which improved his overall health.
Joe decided to celebrate his health and optimism for life by climbing Mount Adams in Oregon in September of 2016. More than 12,000 feet above sea level, Joe proudly celebrated this amazing fete by displaying his "Wage Hope" flag for all to see.
Sadly, his celebration was cut short when, the next day, a CT scan revealed Joe's cancer had metastasized and was now in his left lung. It was a callous reminder that pancreatic cancer can be unrelenting and persistent. Fortunately, the tumor was successfully removed. Joe had to take six weeks off from training for "American Ninja Warrior," but he got right back to it as soon as he could.
Joe's tenacity paid off. On Feb. 6 of this year, he received a call from the show's producer telling him he made the Los Angeles qualifying-round of "American Ninja Warrior." Joe was scheduled to compete on March 7, so on March 3, he packed up his car, left his home in West Linn, Ore., and headed to Los Angeles for his chance to "Beat! That! Wall!"
With his family and friends in the stands donning homemade "Hopeful Warrior" T-shirts and signs, Joe competed in one of the most talked-about obstacle course shows in America.
So how did Joe do? We can't share the outcome until the show airs in June, but we will continue to update you on Joe's progress until then!
If you're curious about Joe's journey and his diagnosis, read more about his story.
Update: Joe's episode will air on Monday, June 12, at 8/7 p.m. (CT). Be sure to tune-in to cheer on our favorite hopeful warrior!