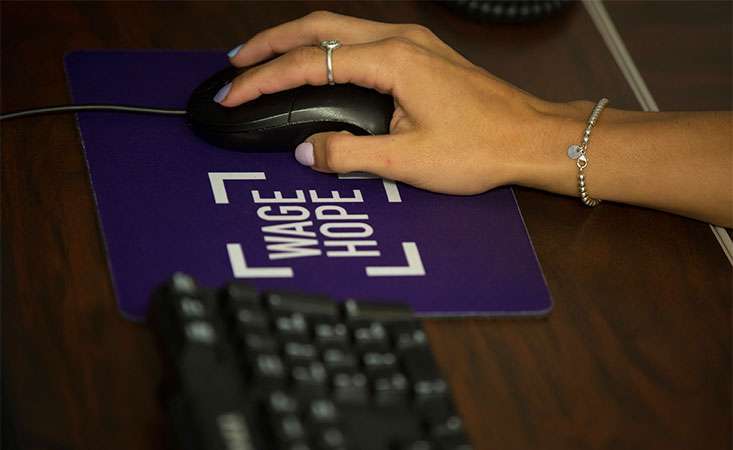 The Pancreatic Cancer Action Network (PanCAN) offers an Ask PanCAN Patient Services series to provide helpful tips and information about commonly asked questions. Here, Danielle, one of the organization's highly trained and knowledgeable PanCAN Patient Services Case Managers, talks about molecular profiling. Specifically, the conversation focuses on how and when to discuss molecular profiling with pancreatic cancer patients' healthcare teams.
Q: What is molecular profiling and why is it important?
A: Molecular profiling is a type of testing done on tumor tissue to identify unique characteristics within a tumor, like genetic mutations and biomarkers (measurable molecular clues). The whole premise is that even though two people may have the same type of pancreatic cancer, their cancers can look very different on the molecular level.
Molecular profiling tests for and identifies these unique differences so that oncologists can determine if there are therapies designed for any of the biomarkers that are found.
PanCAN strongly recommends molecular profiling of your tumor to help determine the best treatment options.
Q: How can molecular profiling information help guide treatment decisions?
A: Knowing what mutations are present in your tumor provides the possibility to reveal additional treatment options that doctors may not have otherwise considered. Essentially, there are therapies that have been proven to work better in patients that have a certain mutation or biomarker present in their tumor.
And along with being able to consider unique treatment options, studies have also shown that treatment based on the tumor's biology may increase its success.
Q: Where can a patient get molecular profiling testing done?
A: There are a few different ways patients can gain access to molecular profiling. One way is to speak directly with your doctor. Oftentimes, and especially at high-volume institutions, doctors work with a particular laboratory or private testing company where they can directly order this testing.
However, patients can also obtain molecular profiling through participation in a clinical trial or through PanCAN's Know Your Tumor® precision medicine service, designed to help patients gain access to this type of testing.
Q: What sort of tumor tissue or biopsy needs to be provided?

A: Different testing companies require different amounts of tissue, but most commonly, patients use tissue from a prior biopsy or surgery.
If for some reason there is not enough tissue remaining or a significant amount of time has passed since that tissue was obtained, then oftentimes a new biopsy can be arranged.
Q: When is the best time for a patient to bring up molecular profiling with their healthcare team? 
A: This a question we get quite often, and we always like to say that there is no wrong time to bring molecular profiling up with your doctor. Your healthcare team can provide their perspective on the best timing to get this testing done.
One thing to keep in mind is that this testing can take time, so it really is used to determine future treatment options. For this reason, most patients have this discussion with their doctor while they are currently on treatment. They can begin this testing and have the results available if there is a need to make future treatment decisions.
Q: Do you have tips on the best way to speak about molecular profiling with a doctor? 
A: I think it's important for patients to think of molecular profiling as a way to learn the most they possibly can about their cancer, so they can consider all treatment options. I think this is a great way to bring up the topic with your doctor.
If your doctor does not know very much about this type of testing, or is resistant to you pursuing it, we have a list of pancreatic cancer specialists who are probably more familiar with the pros and cons of molecular profiling and treating pancreatic cancer patients. PanCAN Patient Services Case Managers would be happy to provide a listing of specialists in your area.
Your doctor can also contact us for more information about molecular profiling and our Know Your Tumor service.
Q: Can you tell us more about PanCAN's precision medicine service, Know Your Tumor?
A: The goal of Know Your Tumor is to provide access to molecular profiling to patients throughout the country. We partner with a precision medicine coordination service called Perthera who works with you and your doctor to coordinate the logistics of testing. Perthera creates a report that lists the mutations and biomarkers found in your tumor and identifies personalized treatment options, which are relevant based on your tumor's biomarkers and other criteria.
The first step in the process is to reach out to a PanCAN Patient Services Case Manager who can help determine if the service is right for you. A Case Manager will help you learn more about Know Your Tumor and if you do qualify, they will get you connected directly with Perthera. Then they reach out to your healthcare team to let them know that you are interested in this type of testing and help coordinate obtaining the tissue, sending it to the laboratory and creating the report with personalized treatment options.
All in all, the process takes about a month to a month and a half after the tissue is obtained.
Q: If a genetic mutation is found in a patient's tumor, does that mean that their children or grandchildren will be at risk?
A: This is a great question. It's important to note that there is a difference between the mutations found in tumor cells, also known as somatic mutations, and the mutations that are present in all cells in a person's body, called germline mutations.
Germline mutations are the types of mutations that are passed down from parents to children, and these are typically tested for via blood or saliva. Doctors usually refer to this type of testing as genetic testing. We recommend that if you are interested in learning about the potential of passing a genetic mutation on to your children, you have germline genetic testing as well. Somatic mutations are not passed down to children.
Contact Patient Services
with any questions about molecular profiling, treatment options, finding a specialist or anything else related to a pancreatic cancer diagnosis.