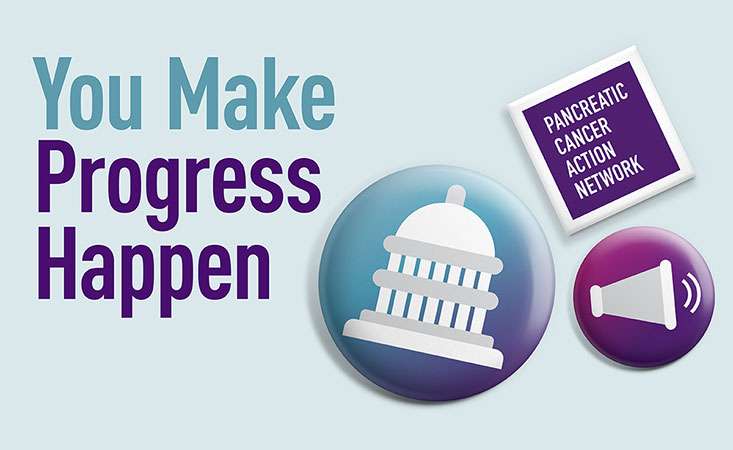 Breaking News: Congress has finally passed the federal government's fiscal year 2022 funding bill and we're proud to say that your actions – sending emails, making phone calls and participating in meetings – to urge Congress to support federal funding for pancreatic cancer research worked!  Members of Congress on both sides of the aisle have demonstrated once again that they understand the only way to change outcomes for pancreatic cancer patients is through research!
Thanks to your relentless dedication, Congress has included $15 million for the Department of Defense's (DoD) Pancreatic Cancer Research Program.  While you asked for $20 million, this dedicated funding for pancreatic cancer is never guaranteed and we're grateful that Congress did direct $15 million to the program once again. None of this would be possible without you.
You also asked Congress to increase federal funding for the National Institutes of Health (NIH) and the National Cancer Institute (NCI) – Congress heard you and provided $44.96 billion for the NIH, including $6.9 billion for the NCI. That's an overall increase of $2.25 billion for the NIH and $353 million for the NCI over the previous year.
All of this means more research that can lead to better outcomes for patients and their families. This overall increased investment in cancer research is a win – federal funding is essential to ensuring that quality science continues to be funded and progress is made.
PanCAN's advocacy efforts are focused on increasing the federal investment in pancreatic cancer and raising awareness on Capitol Hill to accelerate progress and improve patient outcomes.
"I'm encouraged by the bipartisan commitment Congress has made to cancer research by reaching a deal – ensuring pancreatic cancer research doesn't slow down," PanCAN President and CEO Julie Fleshman, JD, MBA said.  "And I am so proud of our PanCAN advocates who used their voice throughout the year and told their inspiring stories to Congress."
Advocating for increased federal funding is a marathon and we're incredibly grateful for your perseverance.  The only way to keep pancreatic cancer research on the top of every member of Congress's mind is to repeatedly remind them of its importance – that too many people are dying and continued investments in pancreatic cancer are needed to make pancreatic cancer a treatable disease.
Congress will soon turn to fiscal year 2023, and once again you will need to raise your voice to urge Congress to provide robust and sustained investments in pancreatic cancer research.
Additionally, there is momentum in Washington, D.C., to accelerate progress in cancer research, above and beyond the annual funding for research at the DoD and NIH/NCI. Just last month, the Biden-Harris Administration reignited the Cancer Moonshot, an initiative launched in 2016 by then Vice President Biden. PanCAN applauds the administration for relaunching the Cancer Moonshot initiative and setting long-term, ambitious goals of reducing the death rate from cancer by 50% over the next 25 years, improving the experience for patients and families living with and surviving cancer and ending cancer as we know it today.
Our collective advocacy efforts are working!  Congratulations on the funding achievements for patients in the fiscal year 2022 budget and we look forward to working with you in the year ahead to ensure next year's budget once again prioritizes pancreatic cancer patients.
Thank you for taking action as a PanCAN advocate and creating a world in which all patients with pancreatic cancer will thrive!
Send a note
to thank your members of Congress for increasing the federal research investment in pancreatic cancer.