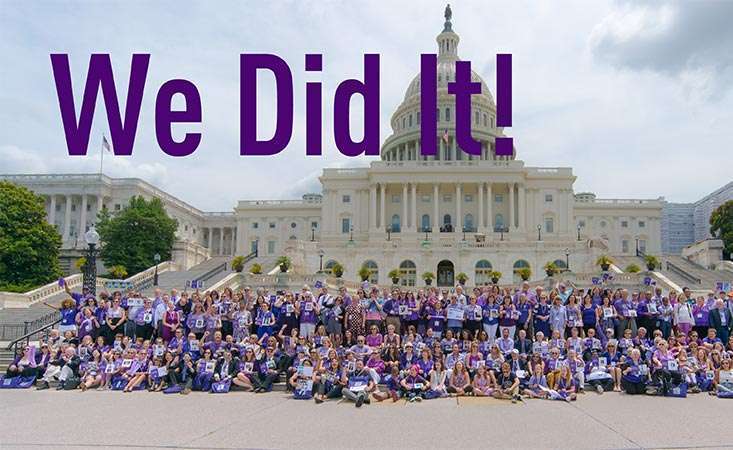 In a big win today for the pancreatic cancer community, the disease will get its own dedicated research program for $6 million through the Department of Defense's (DoD) Congressionally Directed Medical Research Program (CDMRP).
This is the first time that pancreatic cancer has had a dedicated funding program at the DoD specifically for innovative, high-impact research to accelerate discoveries of new treatments and early detection strategies.
Creation of the program had been the Pancreatic Cancer Action Network's (PanCAN) top legislative priority for two years – thousands of relentless, passionate advocates met with their members of Congress at PanCAN's Pancreatic Cancer Advocacy Day, sent hundreds of personal messages to Congress and took countless other critical actions that made a difference.
This is a significant step forward for the field – and critical for patients – as it provides additional pancreatic cancer research dollars to accelerate progress in creating new treatment options and early detection strategies.
The program was included in the bipartisan federal funding agreement released earlier this week. The spending bills were quickly passed by Congress as part of its annual funding process and signed into law by the President.
"We are thrilled that pancreatic cancer will have a new research program at the DoD," said PanCAN President and CEO Julie Fleshman, JD, MBA. "The pancreatic cancer research field continues to grow, and with a new infusion of dollars set aside to fund more grants, we have the opportunity to see accelerated progress."
Pancreatic cancer researchers will have the opportunity to apply for grants through the program, which will be awarded to innovative, high-impact projects.
In 2011, the powerful voices of PanCAN advocates led to pancreatic cancer being included in the DoD's Peer-Reviewed Cancer Research Program for the first time, which is part of the CDMRP. It was a crucial step for increasing resources for pancreatic cancer research.
The next step was to create a more focused effort, and the new $6 million dedicated research program is the result of that work.
These dedicated dollars are essential for a challenging disease like pancreatic cancer.
It is the third leading cause of cancer-related death in the United States and has a five-year survival rate of just 9 percent.
"We applaud our champions in Congress for spearheading this effort, as well as the entire Congress for taking this important next step for the future of pancreatic cancer research and patients," Fleshman said. "We commend and thank our advocates for speaking up and taking a stand on an issue that matters to them, and we look forward to building on the program in the years to come."
In Congress, the initiative was led by Representatives Anna Eshoo (D-CA) and David McKinley (R-WV) and Senators Sheldon Whitehouse (D-RI), Chris Coons (D-DE) and Mike Crapo (R-ID). It was supported by key House and Senate Appropriations Committee leaders, including Representatives Pete Visclosky (D-IN) and Kay Granger (R-TX) and Senators Richard Shelby (R-AL) and Richard Durbin (D-IL).
Other key legislators, including Senators Marco Rubio (R-FL), John Boozman (R-AR) and Doug Jones (D-AL) worked hard to ensure that the funding remained intact in the final bill. Sen. Jones recently held a congressional field hearing on pancreatic cancer to raise awareness about the disease.
Research funding for pancreatic cancer at the DoD complements the work of the National Cancer Institute.