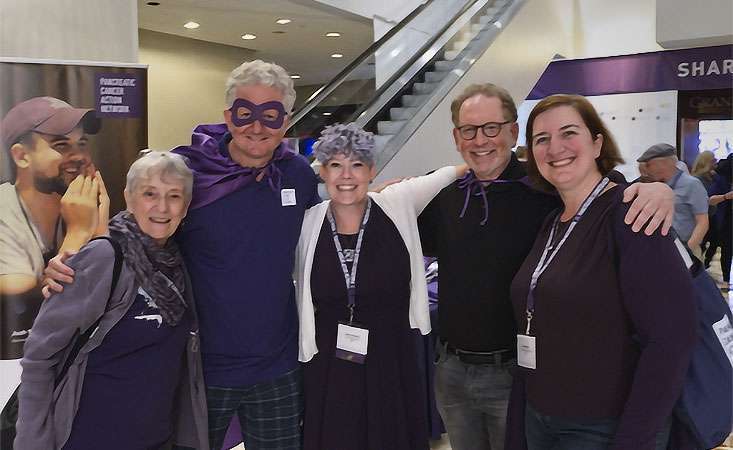 Before the impressive purple sea of advocates – made up of pancreatic cancer survivors, loved ones, healthcare professionals and other passionate supporters – took over Capitol Hill the morning of June 25, U.S. Congresswoman Anna Eshoo (D-CA) delivered motivating send-off remarks to the group:
"This is a new dawn for pancreatic cancer," she said. "I want you to go to the Hill feeling so emboldened. Tell your stories. Your stories are compelling and real."
Today is the Pancreatic Cancer Action Network's (PanCAN) National Pancreatic Cancer Advocacy Day, and 650 registered participants representing all 50 states – including 110 pancreatic cancer survivors – are at the 13th annual event, held in Washington, D.C.
They are urging Congress to increase federal funding for cancer research, including creating a dedicated pancreatic cancer research program in the Department of Defense's (DoD) Congressionally Directed Medical Research Program.
"This is a long road, and there are peaks and valleys," Eshoo continued during her remarks. "At the heart of this are those we lost to this horrible disease. We can never lose sight of the action on behalf of them. We must double down on increasing federal funding for pancreatic cancer research.
"I made my commitment to this [disease] and joined all of you. You are a force of nature across the country. Know that!"
Eshoo has been a longtime leading champion of the cause. She was the first to introduce the bill in Congress that would become the Recalcitrant Cancer Research Act. The passage of the bill in 2012 was monumental for the pancreatic cancer community. It focused the National Cancer Institute on the disease and led to a more significant research investment.
Rep. Eshoo was also instrumental in spearheading the push to include pancreatic cancer in the Peer Reviewed Cancer Research Program. This year, she led the charge to create a dedicated pancreatic cancer research program at the DoD.
"We (Congress) came together and organized 100 colleagues in the House so we could request for the first time that pancreatic cancer receive dedicated funding," Eshoo told the advocates. "It's called 'line-item funding.' It's specific to study pancreatic cancer at the Department of Defense.
"This is you – the power of all of you. If we didn't have you, the PanCAN advocates, the line item wouldn't be there. It is a testament to your powerful advocacy."
Those attending PanCAN's Advocacy Day 2019 are echoing the request in their meetings with their members of Congress, which will last throughout the day.
Their message is also being amplified through media coverage of the annual event:
MSNBC "Morning Joe": U.S. Senator Chris Coons (D-DE) discussed his personal connection to pancreatic cancer with Joe Scarborough and Mika Brzezinski on Monday, June 24, and reiterated the need for additional federal pancreatic cancer research funding.
Cox Media Group (which owns broadcast television stations, radio stations and newspapers nationwide) interviewed pancreatic cancer survivor Elise Tedeschi and PanCAN staffer Kevin Sims on Monday, June 24.
WJLA-TV (ABC) Washington, D.C. interviewed Tedeschi and Sims live in-studio on Tuesday, June 25.
Stay tuned for more updates and photos, and in the meantime, enjoy other articles about Advocacy Day 2019:
Learn more
about our advocacy issues and how you can join the fight!