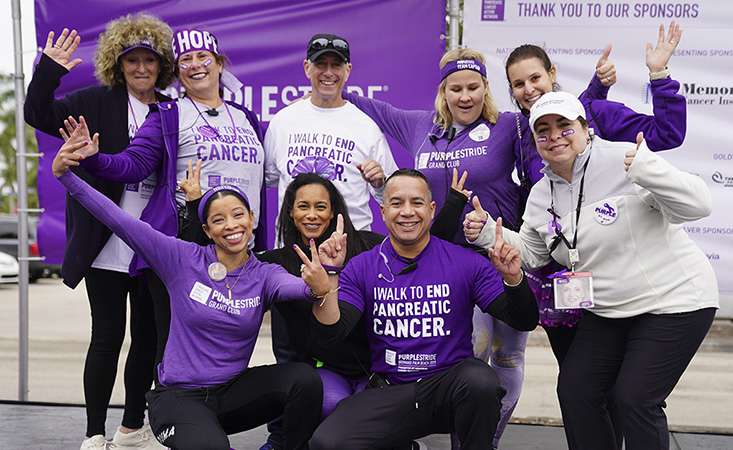 Editor's Note: April 18-24 is Volunteer Appreciation Week and we're turning the spotlight on some of the Pancreatic Cancer Action Network's (PanCAN) invaluable volunteers, who really make it all happen. We're grateful for their energy and enthusiasm every day.
Broward-Palm Beach Affiliate Chair Carlos Ayala learned about a nearby pancreatic cancer walk in 2012, just two months after he lost his mom to the disease. He didn't feel ready and he felt so alone in his loss – but he went anyway.
He learned he wasn't alone. He learned there was a huge, welcoming community who shared his experience and that there was an entire organization dedicated to raising awareness about the disease. He found PanCAN.
"Finding this community gave me the energy to leave the sadness behind," said Carlos. "It gave me a clear vision of what I wanted to do."
And he hasn't stopped since.
In 2013, Carlos attended his first Broward-Palm Beach Affiliate meeting where the need for PurpleStride sponsorship was being discussed. Hearing that, Carlos texted his best friend, Mario Magcalas M.D., P.A. and told him, "I need you to give me $10,000 for this organization."
Ten minutes into the meeting, Carlos had brought the first presenting sponsor on board. He served as Sponsorship Chair through 2018, then became Affiliate Chair.
His mother had been treated at Memorial Cancer Institute and Carlos had built deep relationships with the doctors and staff.  Thanks to those relationships, Memorial Cancer Institute also signed on to be a Gold Sponsor. In 2014, they moved up to Presenting Sponsor, PurpleStride Broward-Palm Beach and both Memorial Cancer Institute and Dr. Magcalas have returned every year. Carlos lost Dr. Magcalas, his best friend to cancer in 2019 and Dr. Magcalas' practice has continued to support PurpleStride in his memory.
Carlos built partnerships in the community beyond PurpleStride sponsorship, too. Working with Seminole Coconut Creek Casino, he spearheaded a November Awareness program, including a Color Purple Comedy Hour, staff fundraising and awareness events, and a program encouraging guests to add an additional donation to their bill. The first year, they donated $25,000. The next year, it grew to $50,000.
Carlos' best friend had found PanCAN Patient Services while his mother was in treatment. The more he learned about PanCAN, the more inspired he got. It's what has kept him inspired.
"Seeing the work that needs to be done in the community keeps me going," he said. "We still need to do so much more."
He's very focused on raising awareness for PanCAN. He's proud of the advances made, like the fact that the survival rate is now 10% – it was 4% when his mother was diagnosed.
"But we can't keep losing people without them knowing that there is help," he said. "Help finding clinical trials, help finding better treatments. We just need to do more."
Carlos has attended nearly every Advocacy Day since 2013. In 2017, his deep commitment was honored at PanCAN's annual Community Outreach Leadership Training as he was named Donor & Corporate Ambassador of the Year.
The larger south Florida community has taken note of Carlos' accomplishments, too. In 2016, he was named Community Champion by the Florida Panthers Foundation. The Panthers are part of National Hockey League, playing in Broward County.
What is Carlos most proud of? Being able to honor his mother, who happens to share a birthday with PanCAN founder Pamela Acosta Marquardt's mother – talk about connecting the dots.
"I'm proud of this community and of the tremendous growth of PurpleStride," he said. "It's a huge accomplishment to reach $240,000, which was our last in-person total."
"I'm proud of this excellent team in Broward-Palm Beach. We really work as a group," he said. "For so long it was such a small group, about three of us. Watching the number of volunteers who have become involved over the last eight years, now, we're a strong team of 12. Everyone brings great ideas and great support."
"I'm proud to be able to provide people with the help and knowledge that I was lacking when my mother was diagnosed," he said. "My focus is raising awareness about PanCAN in my community. We just have to make sure more and more people know about us and everything that we're doing. And there is always more we can do."
Join the movement to create a better future for pancreatic cancer patients.
Get involved today
.