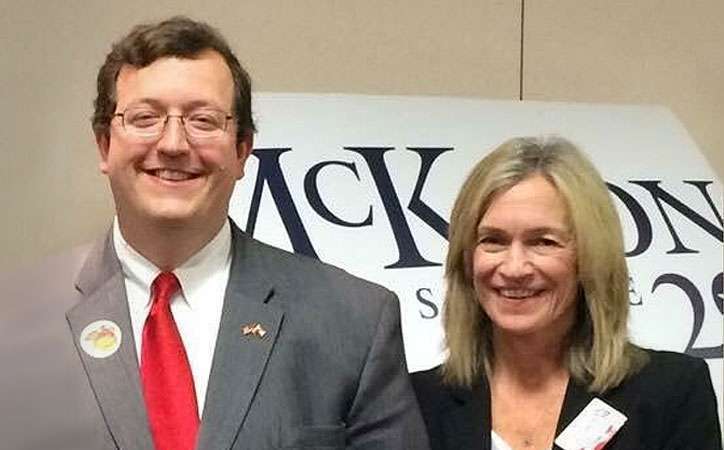 There is no manual for grief. That's a lesson Senator Josh McKoon learned after doctors diagnosed his mom, Sharon, with pancreatic cancer.
Prior to the diagnosis, McKoon, 38, said he never really thought about mortality.
"You just assume you will go on forever," said the state senator from Georgia. "This diagnosis changed my outlook on how I choose to live my life. I am trying to live in a more intentional way."
His mom's pancreatic cancer journey began in the summer of 2015 when she was 63 years old. She went to her doctor for stomach issues. After a series of tests, doctors found the problem – pancreatic cancer was obstructing her digestive system.
The family worked together to act quickly. McKoon's brother, Patrick, moved in with their mother to provide her with around-the-clock company and care as Sharon immediately began treatment. While doctors tried to be as aggressive as possible to save their mother's life, she succumbed to pancreatic cancer 11 weeks after her diagnosis.
"Every day became a gift during that time," explained McKoon. "My mother was a voracious reader, but her treatment made it very difficult for her to see. So, I'd go to the hospital and read aloud to her from books she wanted to read but hadn't gotten to yet."
McKoon remembered one time when his mother called him with a special request.
"She hadn't eaten solid food in weeks," he recalled. "I was at an important dinner, and she called me to ask if I'd bring her an ice cream sandwich later that night. I dropped everything, left the dinner and brought her that ice cream sandwich right away. She and I shared it," he said with a laugh.
McKoon shared these tips for caregivers:
Listen. Make sure you are really listening to the patient. Discover things they can still enjoy.
Be proactive. It can be intimidating when experts share news with you about this disease. But don't let that stop you from investigating, asking questions and learning as much as you can.
Maintain a positive attitude. As sad as you might be about a pancreatic cancer diagnosis, remember that your loved one is still with you; relish that reality. Hope and positivity allow you to better appreciate your time with them.
Be an advocate. Plan and talk over the treatment options with the patient to make sure you are helping make decisions based on their needs and desires.
Use a support system. Make sure you are leaning on the people around you. It's important to remember that you are caring for a sick person you love and that will take a toll on you. You need to have people you can talk to, because it can sometimes be too hard to do it alone.
PanCAN Tip: Support for the pancreatic cancer patient is critical to improve quality of life and overall well-being. Having a support system of caregivers, family, friends, healthcare professionals and a PanCAN Patient Services Case Manager is important to address and manage the needs of the patient. If you or a loved one is facing pancreatic cancer, please contact PanCAN Patient Services for support resources and information about the disease, diagnosis and treatment options.
His mother's death is something McKoon said he will never move on from. However, over the past two years, he's learned how to cope with the loss.
"My mom was a great mom, a wonderful woman," continued McKoon. "She spent her entire life caring for people. That was her mission. She did it until the day she died. If we all did that we would live in a much brighter world."
That's why the lawmaker wants to continue his mother's legacy of taking care of those around him. While he spent his career on the state senate floor, he said he wants to bring his battle against pancreatic cancer to the national level. He plans to use his personal and professional experience to bring greater awareness and federal funding to the disease through advocacy."
You don't have to be a lawmaker to bring about the end of pancreatic cancer. By getting involved today as an advocate, you can help us end the world's toughest cancer.