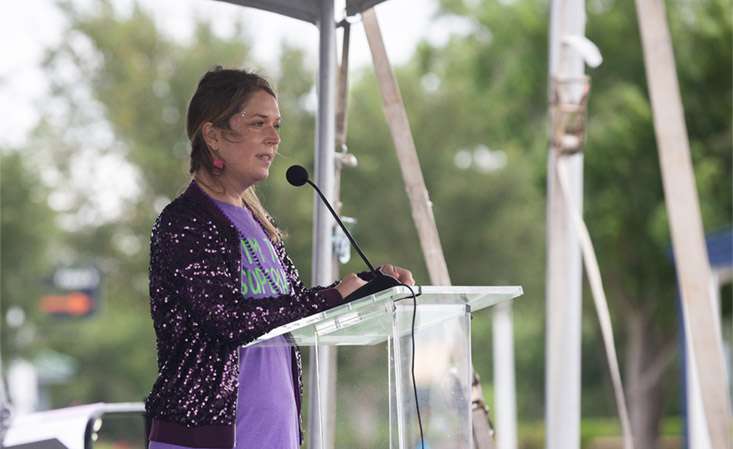 On her 31st birthday, Allison Kuban was diagnosed with pancreatic cancer after a wonderful trip to France with her now-husband. She took the journey from there "one exit at a time," as one of her doctors suggested she do, always buoyed by support from her family and friends. Now, she finds purpose in advocating for more research funding and speaking out on behalf of fellow survivors. At PanCAN PurpleStride Houston, she shared her story with the crowd. As part of our series for National Cancer Survivors Day, we share her speech here as a beacon of hope for all survivors.
At 30 years old, with a brand-new promotion to general manager of my hotel and a family, I was just looking for a proposal and a diamond ring from the man I knew I was going to spend the rest of my life with.
As my boyfriend and I were returning from a week in France, I began feeling symptoms such as stomach pains, fatigue, trouble digesting food and losing weight. I thought my body was detoxing after a week of rich and lavish food and wine. Or maybe I was stressed at work with my new promotion. Or maybe I had a food intolerance. Or anxiety. I ended up in the emergency room because the pain was so intense. Seven days later, on my 31st birthday, I was diagnosed with a rare form of pancreatic cancer called acinar cell carcinoma of the pancreas and would require a harsh chemo regimen.
I only heard chemo and saw my long blonde hair falling out, questioning why my then-boyfriend would want to stay with me, and losing the job that I had worked so hard to achieve. I was finally on top of the world and it completely shattered under me.
I sought a second opinion at UT Southwestern in Dallas after my incredible (now) father-in-law recommended me to meet the team there.
Dr. Beg was not like the initial oncologist I had seen. He was kind, gentle, much more relatable, and even though he told me my cancer was stage IV, I had a comfort from him. There wasn't much comfort in that meeting except my parents holding me after I completely collapsed in the hallway with tears of fear and the unknown. My dad told me through his tears and shaky voice, you are never alone. And I haven't been. They say when one person has cancer, the whole family has cancer.
And this was so true for my family and friends. I've always been close to my family, but this brought us closer. My first doctor in the hospital told me to take everything one exit at a time. Don't get ahead of yourself. I think that applies to everything in life but especially to cancer patients. Pancreatic cancer is very difficult to detect and it has often progressed to stage IV when it is found. We have to go one exit at a time. There are going to be bad days. On chemo, I had countless days of being too sick to get out of bed. Throwing up and returning back to a child who is unable to take care of themselves. But there are also moments in this journey that are unforgettable.
After several months of living like this, desperate to have a good quality of life, I told my mom I wanted to see how long I could live without chemo. I never did a chemo treatment after that. Earlier in 2017 I received information that my tumor profiling came back with a known mutated gene called RET fusion.
My oncologist had sent biopsy tissue for comprehensive genetic profiling. It came back with the match for this mutation that was causing tumors on my pancreas which had metastasized to my liver. It was suggested that I meet the team at MD Anderson to see what trials I qualified for.
I started a new treatment in January of 2018. Within weeks I gained strength and my hair grew back. I am able to live my life with cancer and it DOES NOT stop me. I am back to traveling the world, volunteering and advocating for medical research, primarily for pancreatic cancer.
Over five years later, I am still on that medicine and visit MD Anderson once a month to see the incredible Dr. Subbiah and his team! I take two pills twice a day. This is down from an average of 15 different medicines I used to take while on chemo to manage side effects. My tumors have shrunk nearly 70% and my medicine has no side effects for me.
When I began the trial five years ago, there were only 68 people in the world on the medicine, three of us being pancreatic cancer patients. Eli Lilly recently got the drug approved by the FDA and named it Retevmo®. Patients with this mutation are able to bypass the harsh chemotherapy regimen and begin a targeted therapy such as mine.
Cancer knocked me down BUT it rebuilt me.
I stand here today and NOT just to share my story but also what I hope for all of you and demand for our future.
When people ask my advice, I tell them:
You HAVE TO BE your own advocate.
You have to find the doctors that are HOPEFUL and support YOU in your journey to find a cure.
I've been privileged to share my story on many national platforms and in the media to provide awareness and hope for all types of cancer or family members affected by cancer. I've experienced survivor's guilt as I have seen so many of these people succumb to their diseases. I know the feeling of loss. I grieve the old Alli that I used to be and the future Alli for what I had once hoped for. But I know, in this moment, this is where I should be. Using my voice to advocate for research and support. I recently published a book available on Amazon which details my story and survivorship. My story hasn't changed, just the ears it falls upon.
It is so wonderful to stand here this morning and look out to see so many new faces, but especially the old faces of friends who come to this event each year. Early detection is very difficult. That is why there are so many people who courageously succumb to their disease. However, the five-year survivorship is now up to 12%, which is why there are so many familiar faces here today.
As a survivor, it is my mission to give hope to the community around me. The friends, family, doctors and nurses have it so much harder than the patient. However, navigating your life with cancer is not for the weak of heart. That is why it is so important to surround yourself with the community that is here today. They are the ones that are going to lift you up when going is really tough.
A part of my personal group is gone today. Pete Johnson woke up every year to join the "Rally for Alli" team. He always gave me a hug and said "proud of you, kid." No one was a stranger to Pete. Many of you are here to build your communities so I encourage you to be like Pete and say hi to a stranger!
Unfortunately, cancer reared its ugly head in my life over the last year and I have been battling a brain tumor and effects from gamma knife radiation. I had a craniotomy at the beginning of April to remove the tumor. I got the pathology that the tumor was not cancerous. I do not have active cancer in my brain but I have been instructed to take it easy. SO in true Pete fashion, who loved a good park bench with a stranger, I am going to skip out on our walk today and set up camp in the survivor tent. I hope I can meet all of you!
I want to leave you with a quote that I like to close my speeches with. The great Maya Angelou once said, "I can be changed by what has happened to me, but I refuse to be reduced by it."
Today, we make that change! Together! For our future generations that deserve to know the hope we have created in this cancer world.
By
making a donation today
you're taking bold action to improve the lives of everyone impacted by pancreatic cancer. Your gift will advance scientific research, build community and make vital information available to patients.
PanCAN recommends consulting with a pancreatic cancer specialist. PanCAN does not recommend or endorse any particular physician or institution mentioned in constituent stories and blog posts.