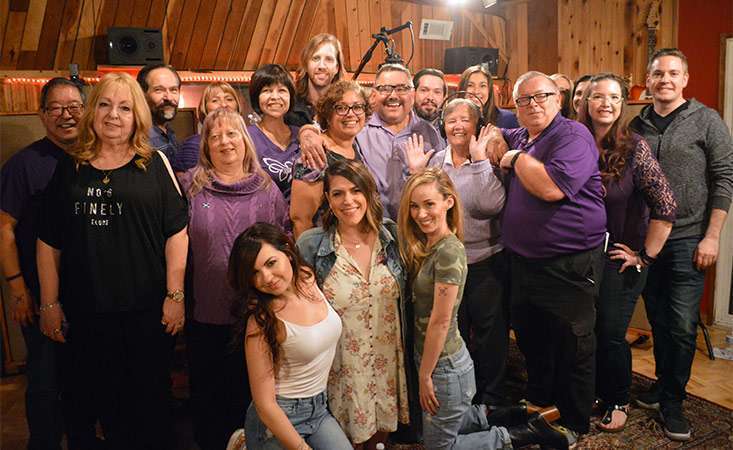 For Roberta Luna and Lupe Romero, surviving the world's toughest cancer is reason to celebrate. Together, the women – who have 22 years of survival between them – have made it their mission to cross off as many bucket list items as possible. That's how the two found themselves jumping out of an airplane, for example.
While Luna's and Romero's latest adventure kept both feet on the ground, it was no less adrenaline- inducing than free-falling 12,000 feet.
Harder, Louder, Higher
It all started when songwriters Liz Russo and Tova Litvin joined forces with vocalist and reality TV star Erin Willett. The trio hoped to create a song that anyone affected by pancreatic cancer could use as a battle cry. The goal: to bring hope, awareness and much-needed funding to fight the disease.
Pancreatic cancer is not a disease the patient can fight alone and the song was not something the trio wanted to perform alone. So, Russo came up with an idea – to have pancreatic cancer survivors and caregivers sing the chorus of the single.
Enter Luna and Romero, who say they jumped at the chance to be featured on an album.
"It's a great way to bring awareness," said Luna, who was diagnosed with pancreatic cancer in 2002. "It's a way to let people know there are survivors."
Lupe and Romero, along with a dozen other pancreatic cancer advocates, belted out, "Harder, Louder, Higher," the chorus to the song created by Russo, Litvin and Willet.
And it's personal for them. Willett's father died from pancreatic cancer shortly after she competed on the second season of NBC's "The Voice." Russo's father is currently fighting the disease. Litvin's mother is a five-year survivor.
"I'm so sorry for Erin's loss and for what Liz and Tova have had to go through," Luna said. "But I'm so proud of them for taking something devastating and doing something positive. They don't have to do anything, but the fact that they do says a lot."
That's a Wrap
After a few hours of recording in a dimly lit, cozy Burbank, Calif., studio, the group wrapped up recording. Their vocals won't only be featured on the song – they'll all also make debuts in the music video for the single.
"Cancer ain't got nothing on me," said Romero, a six-year survivor. "The closer it gets to my anniversary, the more emotional I get. It just means so much to me. I'm having a celebration of my life. I'm excited and I refuse to let fear paralyze me."
That's the fire Russo, Litvin and Willett hope their song ignites in people living with pancreatic cancer, or any deadly disease.
"The more people who are aware, the more people it can help," said Mick Holdsworth, a caregiver who also sang in the chorus. "We can't keep this disease and how it affects people hidden. If this song helps just one person, it'll all be worth it."
Willett recently finished her vocals for the song.
"It's all about putting my energy into something positive," Willett said. "I can't control the fact that my father isn't here, but I can control my activism and my actions via the story I tell."
There's no word yet on when it will be released, but Russo, Litvin and Willett did say part of proceeds from sales of the song will benefit the Pancreatic Cancer Action Network to help double survival by 2020.
"There are things everyone can do," Russo said. "Don't feel helpless or hopeless. We are all here and we are all going to stick together and we are going to make a difference with this disease."
Please stand with PanCAN to Demand Better for pancreatic cancer patients by getting involved in the cause today.
Editor's note: Lupe Romero passed away in February 2019, but her legacy lives on.