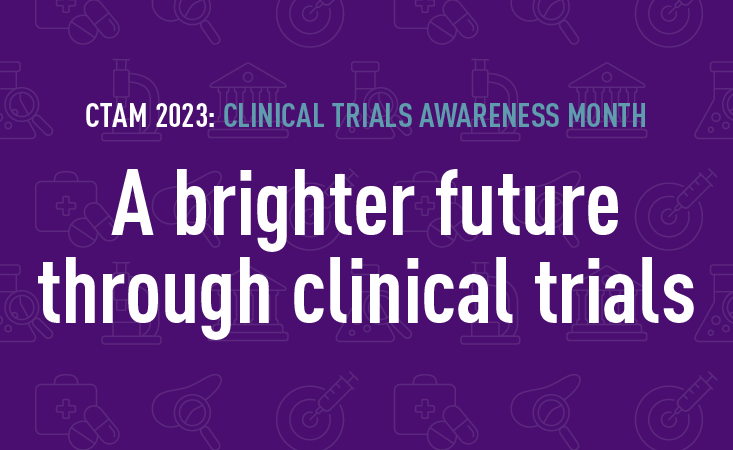 Editor's note: January is Pancreatic Cancer Clinical Trials Awareness Month. Today, we kick off the monthlong campaign focused on the importance of clinical trials for patients with pancreatic cancer. In the coming weeks we'll share stories of people who have participated in pancreatic cancer clinical trials and talk to experts about what you need to know.
Clinical trials are critical for patients with pancreatic cancer. They lead to progress in research, improved treatment options and better outcomes.
Every treatment available today was approved through a clinical trial – a research study that investigates new treatments or combinations of existing treatments to determine if they are beneficial to people living with pancreatic cancer.
PanCAN strongly recommends clinical trials at diagnosis and during every treatment decision.
This Pancreatic Cancer Clinical Trials Awareness Month, PanCAN will be talking about what clinical trials are, why they're important and how patients can find options that are right for them. We'll also share stories from patients with pancreatic cancer who have had success on clinical trials as well as speak with research and treatment experts about the current clinical trials landscape and new developments.
It's important for patients to think about clinical trials no matter where they are in their journey, said Jordan Berlin, MD, Ingram Professor of Cancer Research and Associate Director of Clinical Research at Vanderbilt-Ingram Cancer Center and a member of PanCAN's Scientific and Medical Advisory Board.
"With every treatment decision that's being made, everybody should be asking themselves, 'Should I participate in a clinical trial?' And they should be asking their doctor the same question," he said.
Sign up
for our free Jan. 26 webinar titled "Pancreatic Cancer Clinical Trials: What You Need to Know," featuring a panel of experts including Dr. Berlin, a PanCAN Patient Services Manager and a pancreatic cancer survivor.
As patients and caregivers navigate decisions about clinical trials, PanCAN is here every step of the way offering free support and resources. We maintain the most comprehensive and up-to-date database of pancreatic cancer clinical trials in the United States. PanCAN Patient Services Case Managers are available to help patients and families understand clinical trials and learn more.
Our team is a valuable resource, said Sean Gonzales, a PanCAN Patient Services Manager who talks with patients about treatment options including clinical trials.
"Clinical trials provide opportunities to receive new treatments as well as advance treatments and improve outcomes," he said. "PanCAN Patient Services can help you find trials and talk through any questions about how to move forward."
Join us throughout the month as we continue to explore clinical trials – and the brighter future they offer to patients with pancreatic cancer.