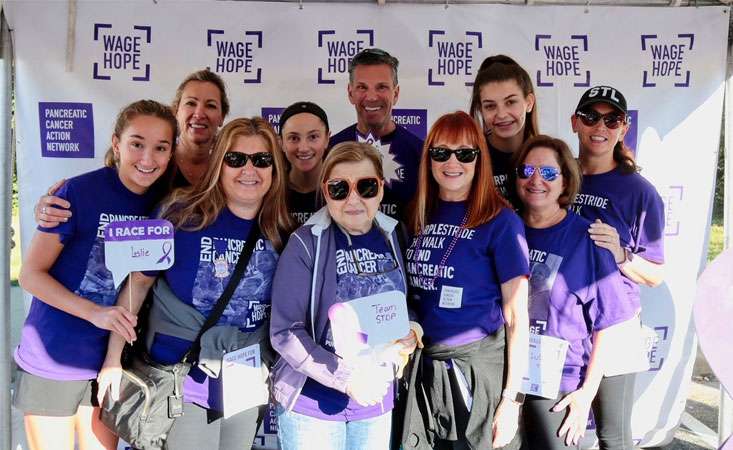 The Moultons understand the power of giving back. Over the past 10 years, since they've been donating to PanCAN, they've seen the pancreatic cancer survival rate increase. They've learned about research discoveries and new clinical trials. They've read more pancreatic cancer survivor stories, and they've continued to be inspired.
Giving is important because Jeff Moulton lost his mother, Betty, to pancreatic cancer in 2013. Wife Shary lost her sister, Leslie, just four years later.
"We're happy to give back to causes that we're close to," Shary said. "And with PanCAN, we know that our money is very well-used."
Jeff and Shary support PanCAN in various ways – including through a Donor Advised Fund (DAF), which allows them to give appreciated stock to fund their DAF and direct grants to support causes like PanCAN. It's very easy to do, Jeff said.
"We speak with our financial advisor and accountant, and then we direct our grant to PanCAN once a year through our Donor Advised Fund. It's just a couple of online clicks, and you're done."
Both Jeff and Shary grew up in charitable households where their parents instilled the importance of giving back. Jeff's mother was 83 years old when she was diagnosed with pancreatic cancer. She was a "very young" 83, he said.
"She had a lot of life left to live, and if pancreatic cancer hadn't stopped her, I don't know what would have."
Shary's sister was a college professor with multiple advanced degrees and was dedicated to her job and her students.
The Moultons used PanCAN Patient Services when Betty was diagnosed, at the recommendation of her physician. They were gratified to receive compassionate support from a PanCAN case manager, as well as comprehensive information about the disease and treatment options. When Leslie was diagnosed, the family knew where to turn and again, PanCAN helped with resources.
With Betty and Leslie in mind, the Moultons have supported PanCAN PurpleStride St. Louis by walking, fundraising, donating and rallying friends and family to participate on their Team STOP (Stamp Out Pancreatic Cancer). It's a family affair – Shary's siblings are involved in their local PanCAN PurpleStride and volunteer affiliates in St. Louis and San Antonio. And their twin daughters, rising college sophomores, have participated in PurpleStride, too.
"We want our children to see that the spirit of giving – both time and money – is a really important thing to do," Shary said.
Jeff and Shary are members of PanCAN's Partners in Progress, a group of donors who contribute $1,000 or more every year. They also give during every PanCAN match challenge – as do Jeff's siblings – knowing their donation will be doubled for twice the impact on pancreatic cancer patients.
"We do what we can to make everyone aware of this great cause," Jeff said, "and hopefully that will inspire others to give back, too." And, hopefully, someone reading this will be inspired to use their Donor Advised Fund (or create one) to support PanCAN!
You can
make an impact
like Shary and Jeff by supporting PanCAN through a gift from a Donor Advised Fund, donating appreciated stock, or giving from your IRA. It's a powerful way to advance research, provide vital information for patients and families, and advocate to increase federal research funding for pancreatic cancer.