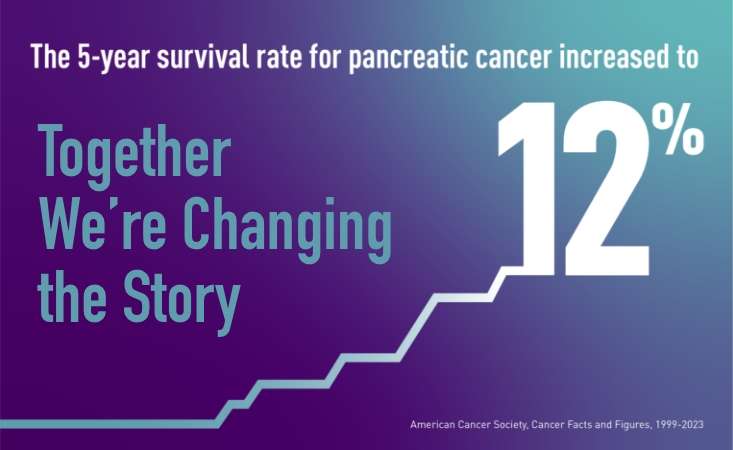 American Cancer Society's Cancer Facts & Figures 2023, released today, reports that the five-year survival rate for pancreatic cancer is now 12%, an increase of one percentage point from last year.
This is the first time since 2017 that the survival rate has gone up two years in a row, a promising upward trend that points to continued progress in the fight against this tough disease. It also represents lives saved: A one percentage point increase means 641 more loved ones who will enjoy life's moments five years after their pancreatic cancer diagnosis.
"We are heartened by another increase in five-year survival," said PanCAN President and CEO Julie Fleshman, JD, MBA. "It's an important milestone that shows we're headed in the right direction – and this means so much to all those affected by pancreatic cancer."
Still, there's more work to be done, as the Facts & Figures report also reveals that an estimated 64,050 Americans will be diagnosed with pancreatic cancer in 2023, more people than ever before. Approximately 50,550 Americans are expected to die from the disease this year.
And while pancreatic cancer is currently the 10th most commonly diagnosed cancer in the U.S., it remains the third-leading cause of cancer-related deaths. Pancreatic cancer is on track to become the second leading cause of cancer-related deaths before 2030.
Taken together, these new statistics mean that PanCAN's work is more vital than ever, said Fleshman.
"Our bold goal is to drive five-year survival to 20% by 2030," she said. "We have the pieces in place to get there. Our research, our advocacy work, our dedicated volunteers, our Patient Services team – this comprehensive approach fuels progress. And our generous donors make it all possible."
Julie Fleshman, JD, MBA, PanCAN's President and CEO, speaks out about the five-year survival rate for pancreatic cancer increasing to 12% in 2023 in this short video:

Thanks to our generous donors, PanCAN has for more than two decades been able to fund initiatives that contribute to improved survival. Since its founding in 2003, PanCAN's Research Grants Program has provided 234 research grants to 213 scientists – and just this year celebrated a record-breaking $10.5 million in grants awarded.
PanCAN's Know Your Tumor® precision medicine service, launched in 2014, provides patients and their healthcare teams with information about treatment options tailored to their tumor's biology. It's an approach that works: Research has shown that patients who go on therapy that matches their biological characteristics live longer.
And the future is hopeful. PanCAN Chief Science Officer Lynn Matrisian, PhD, MBA, points to large-scale projects like PanCAN Precision PromiseSM, a clinical trial designed to accelerate progress for new treatment options, and PanCAN Early Detection Initiative, aiming to find an early detection strategy for the disease, as research poised to unlock new discoveries.
"It's an exciting time for PanCAN and the field of pancreatic cancer research as a whole," she said. "We have a robust research community passionate about improving the lives of patients with pancreatic cancer. And their work is leading to real progress."
Treatment advances are also made possible by patients participating in clinical trials. PanCAN strongly recommends clinical trials at diagnosis and during every treatment decision – throughout January, which is Pancreatic Cancer Clinical Trials Awareness Month – and year-round. Patients are encouraged to contact PanCAN Patient Services for a free personalized clinical trials search or explore options online through our Clinical Trial Finder.
The community's continued support is critical, said Fleshman.
"Our donors make all of this possible," she said. "It's exciting to think about the progress we're making for patients and families – and the momentum is only building."
Donate today
to advance lifesaving research, fund innovative clinical and scientific initiatives and support the roughly 64,000 Americans expected to be diagnosed with pancreatic cancer in 2023. Your gift will make a difference in continuing progress.