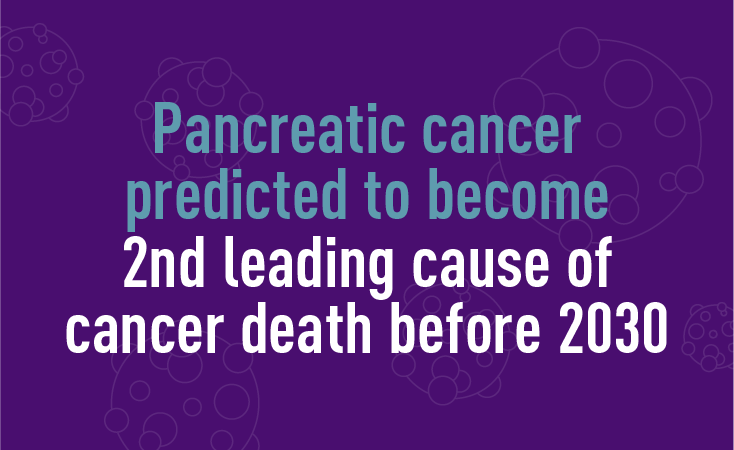 The types of cancer people are getting and dying from most may be changing in the next 20 years, according to a new study.
Published today in JAMA Network Open, PanCAN and our research partners at Cancer Commons and MD Anderson Cancer Center reported new projections about cancer cases and deaths through 2040.
The new study estimates that the number of deaths caused by pancreatic cancer will surpass colorectal cancer deaths before 2030 – moving it from the third to the second leading cause of cancer-related deaths in the United States. The most cancer deaths have been, and will continue to be, caused by lung cancer. These findings are consistent with those of a paper we published in 2014.
"Back when we originally published our projections, pancreatic cancer was the fourth leading cause of cancer-related deaths in the country," said Lynn Matrisian, PhD, MBA, PanCAN's chief science officer and study co-author. "As we predicted, pancreatic cancer deaths overtook breast cancer deaths in 2016."
The 2014 Cancer Research paper making these projections was circulated widely among scientists and clinicians, leading to it becoming the most highly cited article published in the journal that year.
Now, the research team is also predicting that liver cancer will move from its current position of sixth leading cause of cancer-related deaths in the U.S. to third by 2040.
This would mean three cancers of the gastrointestinal tract – pancreatic, liver and colorectal – will be among the top four cancer killers in the country. "This is an important trend to keep an eye on," Matrisian said, "especially with rising deaths caused by pancreatic and liver cancer, which have been historically understudied and underfunded."
Looking at cancer incidence, the study predicts that by 2040 cases of melanoma will increase, and prostate cancer diagnoses will decrease. Currently, the four most diagnosed cancers in the U.S. are breast, lung, prostate and colorectal. By 2040, the team projects melanoma will become second, and prostate cancer will move off the list.
"Interestingly, the decreases in prostate cancer cases and in both colorectal cancer cases and deaths can be attributed to changes in screening," Matrisian said.
"In the case of prostate cancer, there will be fewer cases diagnosed because of changes to screening practices that were causing the over-diagnosis of harmless disease. For colorectal cancer, the colonoscopy is an incredible tool that can both detect and prevent colorectal cancer, allowing removal of early abnormalities and other interventions as needed."
By contrast, there is no standard screening test to diagnose pancreatic cancer. However, PanCAN and others are working to identify which populations would benefit from pancreatic cancer screening and which tests would most effectively detect the disease in its earliest, most treatable stages.
"We are not powerless to change the projections about rising deaths from pancreatic cancer," Matrisian said.
"PanCAN's large-scale scientific and clinical initiatives, focused on developing early detection strategies and better treatment options, aim to improve outcomes for pancreatic cancer patients and result in fewer deaths from the disease each year."
You can help
PanCAN conduct and fund research moving toward a future where all pancreatic cancer patients will thrive.