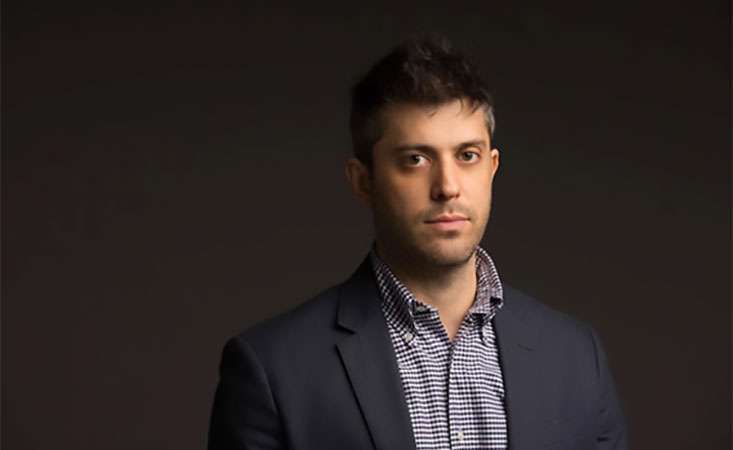 Editor's note: Our focus for Pancreatic Cancer Awareness Month is "Demand Better. For Patients. For Survival." Each week, we're bringing you conversations with people fighting the world's toughest cancer and asking them what Demand Better means to them. Today we have a follow-up story about Andrew Edgerton, who recently passed away of pancreatic cancer, written by his friend, Sheila Battin.
Andy Edgerton lived out loud. His light and love knew no bounds. He was a force of nature that stood out. Whether advocating for others, offering advice, or simply being a friend, he navigated his entire life by waging hope and demanding better. Through the eyes of his loved ones, Andy was all of this and so much more.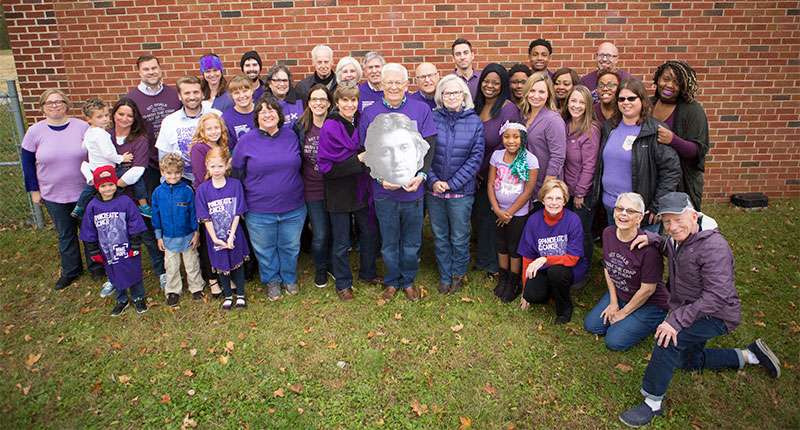 Andrew Edgerton's family and friends
"Andy was a best friend to many people. He had a way of making everyone feel special and important. He had a skill of being able to adapt quickly to the other person and their personality and he understood how they wanted to be communicated with. He made people uncomfortable, but in a good way. He simply brought light out of and to many people. That is what drew people to Andy," said Mike Coleman, his childhood best friend.
In other words, according to longtime friend Nick Seacord, when Andy was around, excitement and encouragement existed in equal measure. "Andy was a habitual line-crosser," Nick said. "He knew and understood social norms but just never had much use for them. So, you never knew what mischief he would get you into."
Indeed, mischief mixed with adventure was often the name of the game for Andy, and it seemed to only escalate through the years. There was the time in high school that he went sledding in the streets while being pulled behind a Ford Taurus with a ski rope, the time he went parachuting on a whim in New Zealand, and the time in Jordan when he was on assignment for the Red Cross and he ate a grilled tarantula just to help combat his fear of spiders.
Andy also found ways to challenge the status quo.
"He was whip smart, so you were guaranteed to have good conversation and he was not afraid to challenge your beliefs or to question his own," Nick said.
Case in point: During his high school years in the early 1990s, Andy was elected Youth Governor of Missouri and, daring to be different, he dressed in a tan linen suit while all others were wearing the typical and expected blue pinstripe. Andy took it to even another level -- wearing a hooped earring.
In 2015, pushing the limits took on a whole new meaning. Andy got news that terrified him – a stage 4 pancreatic cancer diagnosis at 37. His initial reactions were the usual: shock, fear and despair. As friend Tony Wheeler recalled, Andy refused to let his world be turned inside out and upside down.
"After he couldn't reach me, Andy reached out online and simply typed, 'have cancer.' I remember I called him in the car in front of my house and we talked," Tony said. "Andy explained how cancer research is discovering new medicines all the time. He also wanted me to ask him any questions I might have so I understood his cancer better."
Reaching out and researching: these quickly became the essence of Andy's day-by-day war. He fought every day, despite the pain, terror, exhaustion, fatigue, rounds and rounds of chemotherapy and experimental medicine.
"A pancreatic cancer diagnosis is a death notice for many people. There is such a difference between death and hope," said his dad, Tom Edgerton.
Cancer had dealt him a hand he never imagined and one he never wanted. In true fashion, hope became his focus, and in the middle of his fight, life gave him a twist of fate when he met Kerine Lavis. A Facebook friend request led to a new friendship that eventually blossomed into love.
"He needed me, so I supported him. And I loved who I was when I was with him," said Lavis. "He brought out the best in me. He challenged me in a million ways and was exciting and fun and everything I could have possibly wanted in a man. I never thought for a second that he wasn't worth fighting for."
With hope as the driving force and love as his guiding light, Andy was preparing for battle. Even though he was scared of the unknown, he refused to let cancer trump his spirit. Instead, as his older brother explains, Andy used cancer as a positive weapon.
"I think he thought that he had a gift for motivating people and making them feel good about themselves. My sense is that he thought this would be helpful to others with cancer," said Bart Edgerton.
Kristen Spiecker can affirm that impact. Kristen and Andy had known each other since grade school, but it was not until 2016 when Kristen was diagnosed with another type of cancer that she and Andy formed a bond.
"He taught me how to fight for my life," Kristen said. "He taught me how to do it with grace and strength. He brought out a side of myself that I didn't know was there. That I am a strong, capable woman who can look fear in the face and not let it cripple me. He taught me how to say, 'I'm stronger than fear.'"
For over two years, Andy fought endlessly to educate others about pancreatic cancer by shining the spotlight on his own story. Last month, just 16 hours from his 40th birthday, Andy passed away. Some might say all hope was lost on that day. However, others know that Andy's passion for life lives on through his family and friends.
Loved ones are continuing Andy's fight to wage war against pancreatic cancer, doing everything they can to increase awareness of the disease and raise funds to aid in its detection, treatment and research. His loved ones have plans to continue participating in the annual PurpleStride walk under "Team Edge." Additionally, they have created a website, Edgerton. Life, which will have survival guide resources for those whose lives are impacted by this disease, a link to ways to donate toward an annual scholarship that has been set up in his name at his alma mater and details on an annual celebration of life on his birthday (Oct. 23) that will help raise funds to fight pancreatic cancer, with the majority of the funds raised going to PanCAN.
In addition, Andy's mother, Jody Edgerton, offers some advice for others who have a loved one facing pancreatic cancer.
"Make contacting the Pancreatic Cancer Action Network your first action step. Leave no stone unturned, do everything that you can. Be positive and say and think, 'Wage Hope' often," she said.
Throughout his battle, Andy left no stone unturned, and for his army of supporters, that fight is far from over.
"The war he waged with this cancer can't stop now. Andy would want to know he made an impact for the better," said friend Wheeler.
In true warrior form, Andy's spirit remains unstoppable. As he once said, "You never know how hard you can fight until you have to."
Author's note:  As a journalist, telling stories that matter is important to me. That was never more critical than when I found out that Andy had cancer. His story is compelling, and I knew it would resonate with people. It was a story that needed to be told. For over a decade, I had not written professionally and honestly, I had my doubts about whether I could do the story justice. The bigger concern I had, though, was asking Andy, who was fighting a deadly disease, to share his story with the public. Not an easy ask, yet Andy made it easy. Both the original story and this follow-up were emotionally difficult to write, but necessary. My hope is that anyone reading this will see the importance of pancreatic cancer research and that one person can truly make a positive difference. Andy demanded better for his life and for cancer. For me, Demand Better means that we have a responsibility to stand up to pancreatic cancer so that no more lives are taken and so this cause gets the funding it should. It means never giving up hope. Hope, after all, is the anchor of the human soul. – Sheila Battin