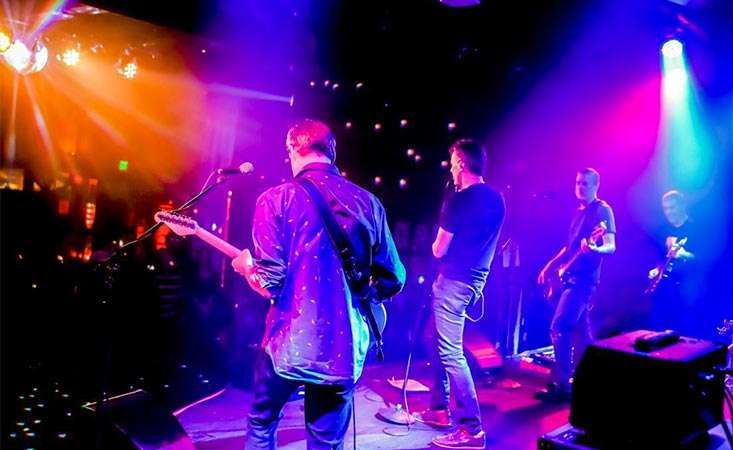 Editor's Note: In celebration of International Friendship Day, the Pancreatic Cancer Action Network highlights an enduring connection.
Matt Bencke lost his battle with pancreatic cancer three years ago at age 45, just weeks after diagnosis. Since then, Matt's Army has continued the fight in his honor, raising funds for Pancreatic Cancer Action Network's (PanCAN)  PurpleStride Puget Sound, including 'Live for Matt' concerts featuring Element47, the band Matt and several friends had started years earlier.
With no live concert possible this year, band member and close friend Marco Argenti gathered Element47 on Zoom where they streamed one of their past performances, played an encore 'together'  and so far, have raised more than $75,000 of their $100,000 goal with their Wage Hope My Way tribute page.
Matt's legacy continues to inspire this close-knit band. "We did not give up and decided to join the fight against this terrible disease," Marco wrote in the Wage Hope My Way tribute.
"We still feel very connected to Matt and his family," said Marco, explaining how the band stays inspired to fundraise for PanCAN year after year. "Music is our passion, also doing what we can to help others. And our efforts accelerated during this time – to help people who have had the double strike of being the victims of this disease while experiencing this pandemic."
Element47 first became engaged with PanCAN because of Matt, and the Puget Sound Affiliate, who set up their first performance to benefit PanCAN. The band has been giving back to their community since their beginning and that continues today with other organizations, in addition to PanCAN. The band recently reconnected for the first time since March, following all health department guidelines, to create a new video fundraiser for the Equal Justice Initiative.
The band came together after Matt and Marco connected through business. Marco had just bought a house in Seattle that had a stage in the basement. "It was a kid's stage," laughed Marco, "but still a stage and that stage demanded a band." The band found their bass player when Marco called the closest neighbor who might have complained about the noise and invited him to join.
"We're all getting used to this new form of communication," said Marco. "Establishing virtual contact and ways to feel close even as we can't be together. So, we said, let's try this new way. And the reception from our community has been extraordinary."
Keep an eye on the Element47 Facebook page for more new music and virtual performances.