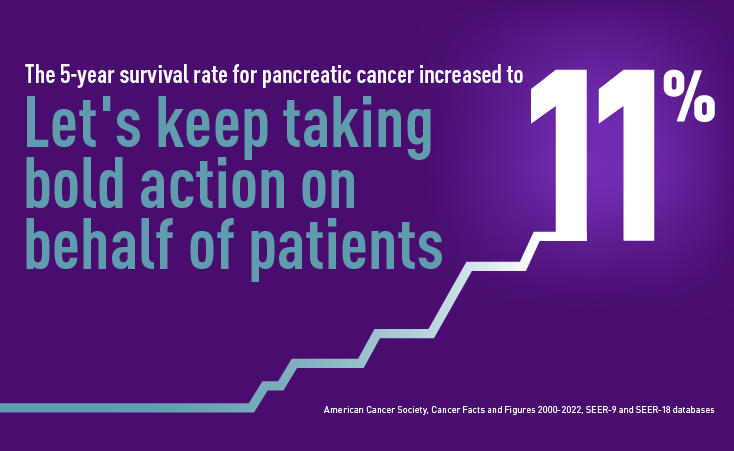 American Cancer Society's Cancer Facts and Figures 2022, released today, reports that the five-year survival rate for pancreatic cancer has increased to 11%.
This one percentage point increase over last year signifies important progress, said Julie Fleshman, JD, MBA, PanCAN's president and CEO, as it represents 622 more loved ones who will make it to five years after their pancreatic cancer diagnosis. Still, much work remains to be done.
"A five-year survival rate of 11%, and the increase of five percentage points over the last decade, tell us that our efforts are working," she says. "PanCAN's initiatives are more important than ever to improve outcomes for pancreatic cancer patients."
Despite the promising trend in five-year survival, the Facts & Figures report also reveals that more people than ever before will be diagnosed with pancreatic cancer. In 2022, an estimated 62,210 Americans will be diagnosed with pancreatic cancer. According to the report, while pancreatic cancer is currently the 10th most commonly diagnosed cancer in the U.S., it remains the third-leading cause of cancer-related deaths. Pancreatic cancer remains on track to become the second leading cause of cancer-related deaths before 2030. Approximately 49,830 Americans are expected to die from the disease this year.
Since its founding, PanCAN has taken a comprehensive approach to creating a world in which all pancreatic cancer patients thrive.
"From our research and clinical initiatives to our innovative programs for patients, our donors continue to fuel progress on all fronts," says Fleshman.
PanCAN's Know Your Tumor® precision medicine service is one example of a program improving outcomes. Launched in 2014, the service matches patients with treatment options tailored to their tumor's biology. This approach pays dividends: Research has shown that patients who go on therapy that matches their biological characteristics live longer.  PanCAN is also working to improve survival rates through its large-scale research initiatives like PanCAN Precision PromiseSM, a clinical trial designed to accelerate progress for new treatment options, and PanCAN Early Detection Initiative, aiming to find an early detection strategy for the disease.
Treatment advances are also made possible by patients participating in clinical trials. PanCAN strongly recommends clinical trials at diagnosis and during every treatment decision – throughout January, which is Pancreatic Cancer Clinical Trials Awareness Month – and year-round.
Julie Fleshman, JD, MBA, PanCAN's President and CEO, speaks out about the five-year survival rate for pancreatic cancer increasing to 11% in 2022 in this short video:
PanCAN Patient Services serves as a critical resource for patients and families seeking treatment options like clinical trials as well as free information about genetic and biomarker testing, early detection and more.
And PanCAN donors make all of this possible by funding promising research and critical services for patients. Researcher and PanCAN research grant recipient Dr. Sharon Gorski used her 2018 award to advance work focused on a family of proteins that may be potential therapeutic targets.
"I am tremendously grateful to the PanCAN donors who supported our award, which enabled the investigation of new directions for pancreatic cancer treatment options," Gorski said. "Research and innovation are critical for creating breakthroughs that will improve the lives of pancreatic cancer patients. I am honoured to be a part of PanCAN and continue to be extremely impressed by its culture of inclusion, collaboration and support. Thank you to the leadership for developing and sustaining this culture."
All of these combined PanCAN research efforts lead to progress and are contributing to the improved survival rate for patients.
Donate today
to advance leading-edge research that continues to help pancreatic cancer patients live longer.