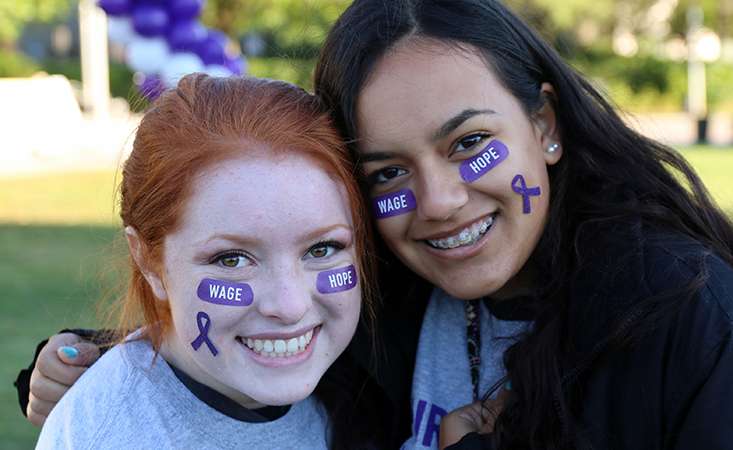 AdventHealth believes that health should be measured in terms of the whole person – body, mind and spirit. And what's better for the body, mind and spirit than participating in an event that supports research for pancreatic cancer?
Saturday, March 13, 2021 is your chance to work on your whole self by participating in PanCAN's virtual PurpleStride Central Florida 2021 where AdventHealth will be the Platinum Sponsor. This is the sixth year AdventHealth has supported PurpleStride.
PanCAN is proud to partner with AdventHealth on this year's PurpleStride event and appreciates the critical work they do on behalf of pancreatic cancer patients and their loved ones.
"AdventHealth Cancer Institute has developed a center of excellence for the treatment of pancreatic cancer and pancreatic tumors. Our patient-based treatment approach uses the latest innovations and technologies for the treatment of this complex disease," said Juan Arnoletti, MD, Surgical Director of the Pancreatic/Liver Surgical Oncology Program at AdventHealth Cancer Institute.
PanCAN's The Right Track approach advises that those diagnosed with pancreatic cancer should see a specialist at an institution that sees and treats a high volume of pancreatic cancer patients – and AdventHealth has one of the largest pancreatic cancer programs in the Southeastern United States.
"Patients and their families can have peace of mind that we provide state-of-the-art care with the latest innovations in treatment of pancreatic cancer. Our team takes a tailored approach to cancer care, providing personalized treatment plans for each patient's individual diagnosis. We have a multidisciplinary team of professionals spanning the specialties of Medical Oncology, Radiation Oncology, Surgical Oncology, Gastroenterology, Pathology and Radiology, as well as dedicated nurse navigators that provide comprehensive care for the pancreatic cancer patient," said Dr. Arnoletti.
PurpleStride Central Florida 2021 may be virtual this year, but that just means more opportunities to get creative and make PurpleStride your own.
We love seeing how you express your purple pride. So, put on your favorite purple outfit, snap a picture of yourself and make sure to post on social media. Please tag @pancan and use the hashtag #PurpleStride and you may have your photo reposted on our account!
A big thank you to AdventHealth for their continued support of PurpleStride and for helping pancreatic cancer patients feel whole through compassionate care and world-class expertise.
There's still time to sign up! Click
here
to register for PurpleStride Central Florida 2021 – it's free!