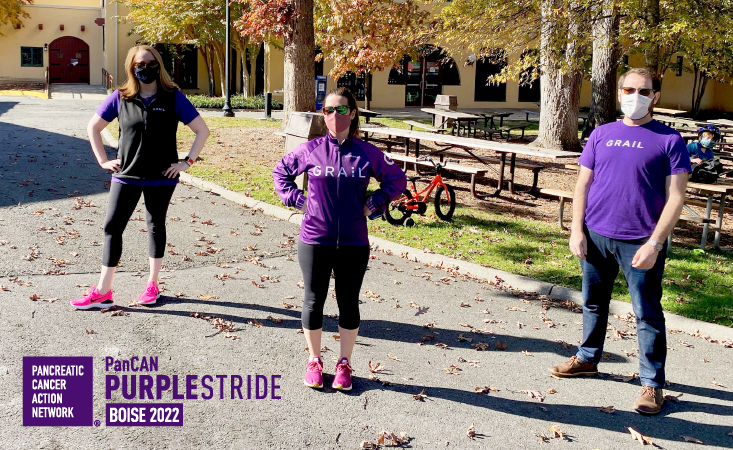 For PanCAN PurpleStride Boise Premier Sponsor GRAIL, PanCAN's mission is personal. Many GRAILers, as staff is called, have seen the aggressive toll of a pancreatic cancer diagnosis among a friend, family member or colleague – and their profound personal experiences drive the GRAIL mission of early detection.
GRAIL is a healthcare company focused on saving lives and improving health by pioneering new technologies for early cancer detection.
GRAIL has been a PanCAN PurpleStride Sponsor since 2020 and this year, they've expanded their support with a Regional Sponsorship of 13 events, including Premier Sponsorship of Boise PurpleStride.
GRAIL's mission is to detect cancer early, when it can be cured. GRAIL is working to change the trajectory of cancer mortality and bring stakeholders together to adopt innovative, safe and effective technology that can transform cancer care, including for pancreatic cancer. That's why GRAIL has developed a blood-based multi-cancer early detection (MCED) test called Galleri®, which is designed to detect over 50 types of cancer with a simple blood draw. Galleri can provide critical information for patients to discuss with their healthcare team to guide diagnostics and care. Watch patient Jim Ford's clinical trial story here.
PanCAN also wrote about the Galleri test in a post on pancan.org last September.
GRAIL is deeply committed to working with PanCAN and our passionate nationwide network as Premier Sponsor of PanCAN PurpleStride Boise. GRAIL is an important voice amplifying PurpleStride, the ultimate event to end pancreatic cancer on One Big Day, Saturday, April 30, 2022.
"The mission is deeply personal to me, as it is for so many others," GRAIL's Senior Medical Science Liaison Julia Feygin, PhD, says. "I lost my dad to pancreatic cancer when I was a child. He was only 40 years old, and he died because his cancer was detected too late. Before my dad died, I promised him that I would join the war on cancer when I grew up, and here I am."
Julia added, "We know that working together is how we can change the trajectory of the war on cancer. We are so proud to be part of PanCAN PurpleStride."