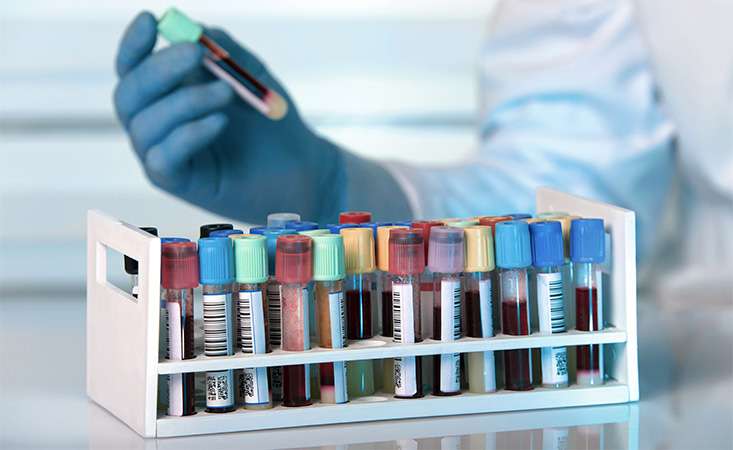 There are now two blood-based tests available that can potentially detect cancer before it causes symptoms or is diagnosed through other methods.
One test – GRAIL's GalleriTM test – can signify the presence of more than 50 types of cancer, including pancreatic adenocarcinoma and pancreatic neuroendocrine tumors. The other – Immunovia, Inc.'s IMMray® PanCan-d test – is the first-ever blood test specific for pancreatic cancer (pancreatic adenocarcinoma), available to people considered high risk for the disease due to family history or genetic alterations.
Neither test is currently approved by FDA or covered by insurance, and both companies run the tests in certified labs. Both tests cost approximately $1,000 per test, and payment plans may be available. The blood tests do not provide a definitive diagnosis and are not a standalone indicator of the presence of cancer. People who are currently participating in a screening or surveillance study are encouraged to speak to their healthcare team and the study staff to determine whether a blood test may be incorporated into their program.
If you're interested in taking the Galleri or IMMray PanCan-d test, please speak with your healthcare team to determine whether the tests are right for you and to order the test. PanCAN Patient Services can also provide information and resources about these blood tests as well as other ways to detect and diagnose pancreatic cancer.
Things to Know About Immunovia, Inc.'s IMMray PanCan-d Test
The test is not a screening tool that's available for everyone. Only people who are at high risk for developing pancreatic cancer because of a family history or a known genetic mutation associated with pancreatic cancer can be tested with the IMMray PanCan-d test. You'll need a doctor to order the test for you.
The IMMray PanCan-d test measures nine biomarkers in the blood, including CA19-9. The biomarkers can indicate the presence of cancer cells as well as the immune system's response to the tumor. The patient will find out if they have a biomarker signature that could indicate pancreatic cancer, if they have no signature or if their results are considered "borderline."
You can only be tested if your body produces some CA19-9. If the results show that your body does not produce CA19-9, your blood sample will not be able to be tested, and you will not be charged for the test.
The test is requested through your doctor and arrives at your home. A trained phlebotomist comes to you, at your convenience, to have your blood sample collected. Within a week of receiving the blood sample, Immunovia, Inc. sends the test results to your doctor's office. Your doctor will give you the results.
The test is available in all but two states. It is not yet available in New York and California.
Things to Know About GRAIL's Galleri Test
Galleri is a multi-cancer blood test. Galleri can detect the presence of 50 types of cancer based on genetic material (DNA) that gets shed from the cancer cells. Results can also indicate where in your body the cancer may be found (such as the pancreas) based on specific markers on the DNA. The test isn't meant to screen the general public and needs to be ordered by a medical professional.
Galleri is intended for adults at elevated risk of cancer, such as those 50 years and older. People may also opt for this test if they were born with a genetic alteration that increases their risk of developing several types of cancer, not just one.
The blood collection kit is ordered by your doctor and can be shipped to their office or your home. Your doctor will arrange for your blood draw and return the kit to the company, and results will be available in about 14 days.
As of Sept. 20, 2021, the Galleri test is available in all states across the U.S.
Diagnosing pancreatic cancer in its earlier stages can lead to more treatment options, including surgery, and better survival. Certain risk factors may increase the likelihood of getting pancreatic cancer, like family history, race (ethnicity), smoking, diabetes, obesity, age and others. Pancreatic cancer may cause only vague unexplained symptoms. Pain (usually in the abdomen or back), weight loss, jaundice (yellowing of the skin and/or eyes) with or without itching, loss of appetite, nausea, change in stool, pancreatitis and recent-onset diabetes are symptoms that may indicate pancreatic cancer. If you are experiencing one or more of these symptoms, we urge you to speak to your doctor immediately and reference pancreatic cancer.
PanCAN is working to develop an early detection strategy in individuals who were recently diagnosed with diabetes. A subset of people diagnosed with diabetes after the age of 50, who experience rapid changes in their blood sugar and weight, may have pancreatic cancer. Participants in PanCAN's Early Detection Initiative will be identified through participating institutions' electronic health records. Subsets of participants will undergo imaging tests and provide blood samples to discover future biomarkers.
In order to achieve our vision of creating a world in which all pancreatic cancer patients will thrive, PanCAN is funding and conducting research leading to new, better treatment options and improved early detection strategies. The new blood tests commercially available to detect cancer early can be an important step toward this goal.
Contact PanCAN Patient Services
to learn more about pancreatic cancer risk, testing and other information and resources about detecting, treating and managing pancreatic cancer.
PanCAN does not recommend or endorse any specific physicians, products, tests, services, clinical trials or treatments related to pancreatic cancer.