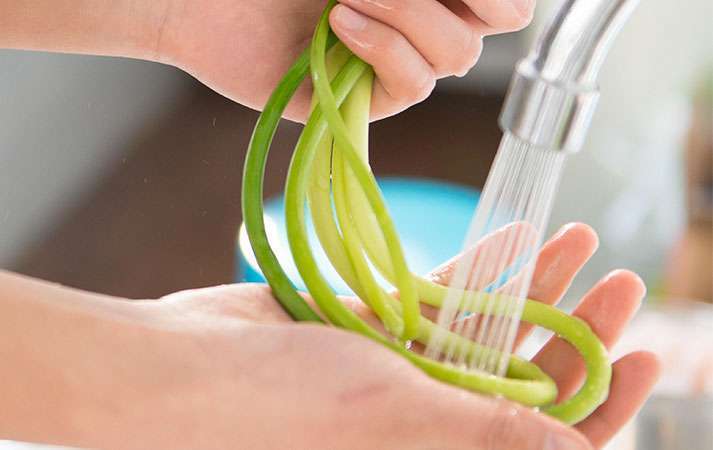 June is National Fresh Fruit and Vegetable month and many cancer patients will choose to start summer off right by growing or purchasing fresh fruits and vegetables. Though fresh produce is conducive to a healthy diet for pancreatic cancer patients, there are precautions to be taken before eating your favorite fruits or vegetables.
Individuals going through cancer treatment can have weakened immune systems making it harder for them to fight off bad bacteria or viruses that cause foodborne illness (food poisoning).  Chemotherapy, radiation, and recent surgery can weaken the body's immune system by affecting the blood cells that protect against disease and germs. This condition is known as neutropenia. Neutropenia is less common from pancreatic cancer treatments than treatments for other types of cancers but it is still important to use precautions to minimize the chance of getting a foodborne illness.
According to the Food and Drug Administration (FDA), symptoms of foodborne illness can include:
Vomiting, diarrhea, and abdominal pain
Flu-like symptoms, such as fever, headache, and body ache
Follow these four steps when buying, storing, and preparing fruits or vegetables:
Inspect: Choose produce that is not bruised or damaged.
Separate: Arrange fresh fruits and vegetables separately from raw meat, poultry, and seafood when bagging them at the market.
Clean: Wash hands, fruits, vegetables and areas where produce is stored. Wash all vegetables and fruits under clean, running water. Dry with a clean towel (cloth or paper) after washing.
Temperature: When purchasing pre-cut, bagged or packaged produce, only select items that are refrigerated or surrounded by ice.
If you're a pancreatic cancer patient or caregiver with questions or concerns about nutritional care, take a look at FoodSafety.gov and FDA for healthy tips on preparing fruits and vegetables. Also, a registered dietitian can help you with information on dietary needs.
Contact Patient Central
for comprehensive disease information – including our diet and nutrition booklet, nutrition tips and recipes – and help finding a registered dietitian in your area.
Come back to our blog each week for a new installment of the Friday Fix.