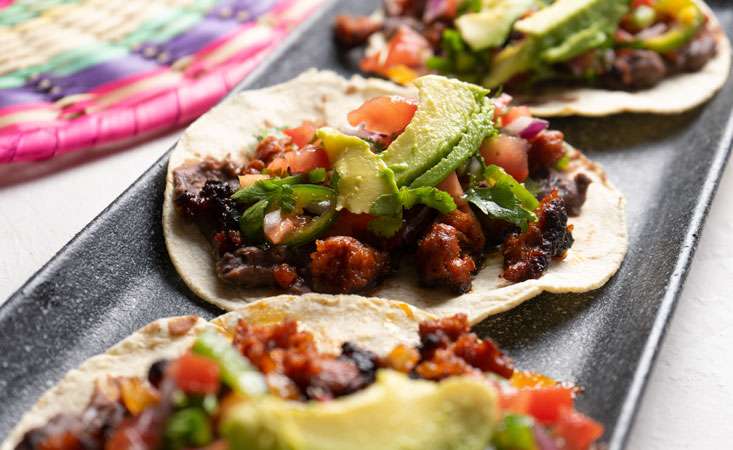 It's National Hispanic Heritage Month (Sept. 15 – Oct. 15), a special opportunity to recognize and celebrate the generations of Hispanic Americans who have enriched the U.S. in areas such as science, art, culture, research and many other fields.
In today's Friday Fix, we explore healthier versions of a few popular, regional Hispanic foods.
Mexico
Tacos, tamales, tostadas – when people think of Mexican cuisine, "tasty" is often the first word that comes to mind. While these Mexican staples can be high in fat, cholesterol and sodium, there are ways to add healthy fats and carbs to these dinner table delights.
For starters, cook your favorite menu items at home so you can control how much oil is used in the dishes. Rely on herbs and spices – like cilantro or red pepper flakes – for bold flavors rather than salt.
To get that creamy texture in sauces, or atop enchiladas and quesadillas, add sliced avocado or guacamole instead of sour cream. Also, opt for whole pinto or black beans instead of refried beans, and lean meats like chicken breast or seafood instead of pork or beef.
Peru
Peru may be home to more than 4,000 varieties of potatoes, but there's more to this South American nation than spuds.
Much of Peru's landmass lies along the Pacific Ocean, so naturally ceviche is the go-to. This national dish is usually comprised of raw fish, camote (sweet potato), onion and spices, all of which are marinated in a tangy lime juice. The dish is low in fat and high in flavor.
If you travel east from the coast, you will run into the Amazon jungle, where a plethora of exotic produce grows. While many of them haven't yet crossed the U.S. border, you can still find several of these nutrient-rich fruits in your grocery store produce section.
Mark Twain called cherimoya, or custard apple, "the most delicious fruit known to man," although dragon fruit often attracts fans due to its vibrant colors and sweet flavors. Depending on the season, you can also find guava, mango and cacao at your supermarket.
Caribbean (Cuba, the Dominican Republic and Puerto Rico)
The year-round sunshine, paired with warm temperatures and adequate rainfall, make the Caribbean a breeding ground for healthy produce.
Some favorite fruits include avocado, guava, mango, coconut, banana and papaya. All these tree-born foods are packed with vitamins A, B-6 and C, as well as folate and potassium.
Yes, many meals do include meat-heavy main courses, like ropa vieja (shredded beef) or chicharrón (fried pork belly). But it's important to remember that the islands also offer an abundance of fresh seafood dishes.
Think grilled octopus and shrimp, conch salad, seafood-stuffed avocado, fish stew and, like many Latin American countries, their own renditions of ceviche. Healthy sides include plantains lightly fried in olive oil, rice and black beans and green salad with colorful veggies like tomatoes, peppers and cucumber.
Looking for a few Hispanic Heritage Month-inspired recipes? Cook up some of the following meals to celebrate throughout the next month and year.
You may also be interested in the cookbook, "Nuestra Cocina Saludable: Recipes from Our Community Kitchen," from UT Health San Antonio, which includes 46 recipes for healthy, delicious foods straight from real Latina kitchens.

Contact Patient Services
for comprehensive disease information – including our booklet on diet and nutrition – and help finding a registered dietitian in your area.