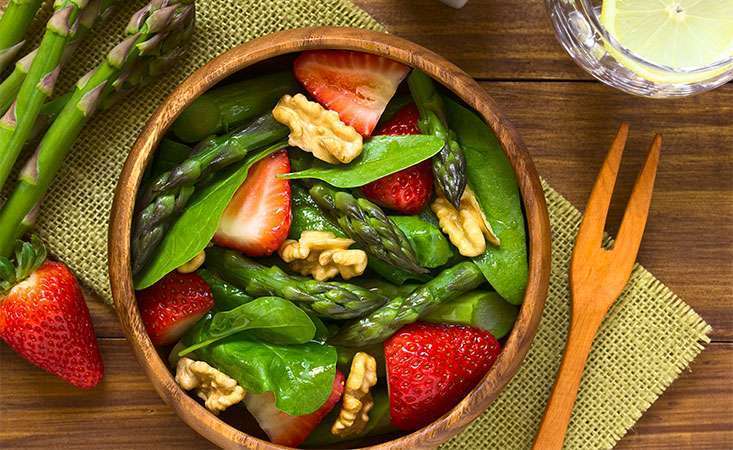 Editor's note: Each week, our Friday Fix series offers pancreatic cancer patients, their families and caregivers a new topic related to health, diet and nutrition. For today's post, we are exploring healthy substitutions for everyday cooking ingredients. We also got insight from Jeannine Mills, MS, RD, CSO, LD, outpatient oncology dietitian at the Norris Cotton Cancer Center at Dartmouth Hitchcock Medical Center and member of the Pancreatic Cancer Action Network's (PanCAN) Scientific and Medical Advisory Board.
Springtime is here. And that means a large variety of fruits and vegetables are in season and ready for you to eat.
In season vegetables and fruits can be a way to maximize nutrition while also keeping down expenses. They can be found at local farmers markets and grocery store chains, where they are generally sold for less than in the off season.
In season vegetables are:
In season fruits are:
Strawberries
Lemons/limes
Apples
Check out a full list of in season vegetables and fruits provided by the U.S Department of Agriculture (USDA).
Expert Friday Fix contributor, Jeannine Mills shared one of her tips for approaching in season vegetables and fruits.
"Consider stepping out of the box this spring and try a fruit or vegetable that you have never tried before," said Mills. "One example of a power produce 'outside the box' are dandelion greens. They're versatile, easy-to-add into salads and can also be sautéed with garlic and almonds. They can also be used in smoothies or when preparing pesto."
Learn how to prepare your vegetables and fruits before cooking or eating them.
Pancreatic cancer patients often have many questions and concerns about nutritional care. MyPlate, American Institute for Cancer Research and Cooking. Comfort. Care., can be used as resources for healthy diets on a budget. And be sure to consult with your doctor or a registered dietitian before incorporating new foods into your diet.