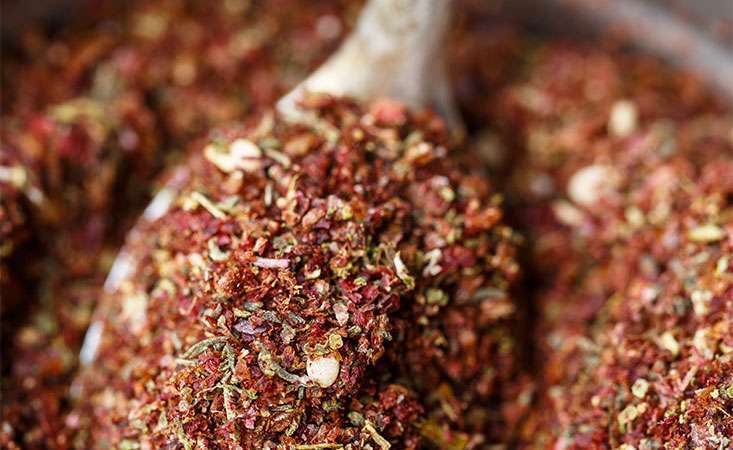 Cook Something Bold Day is Nov. 8, but instead of offering up a bold and spicy new dish for our readers, Friday Fix has a craving to report on a bold "new" spice blend, instead.
Za'atar.
Okay, okay, to call it new is actually a misnomer – za'atar has been eaten in the Middle East for centuries, but it's relatively new in the United States. It's a mix of herbs, sesame seeds and sumac, and the herbs can include dried thyme, oregano, marjoram or a combination of the three. Sumac is a bright and tangy spice with a deep red color, and it also plays a starring role in Middle Eastern cuisine.
Za'atar is easy to make and quick to enjoy: dip pita in olive oil and then in the za'atar for a flavorful snack. Or roast a chicken or grill fish with za'atar – sprinkle generously before and after cooking. The blend is delicious on roasted veggies and on top of avocado toast, too.
You can also use it to spice up dishes that are great for pancreatic cancer patients or try in new recipes you may not have before considered.
Who knows, za'atar may provide just the kick you need to try something bold in the kitchen!
*Special thanks to our Friday Fix contributor, dietitian Maria Petzel with MD Anderson Cancer Center, for recommending za'atar as a noteworthy bold spice blend!
Come back to our blog each week for more Friday Fix: Your Weekly Nutrition Supplement.
Contact PanCAN's Patient Central
for comprehensive disease information – including our diet and nutrition booklet, nutrition tips and recipes – and help finding a registered dietitian in your area.