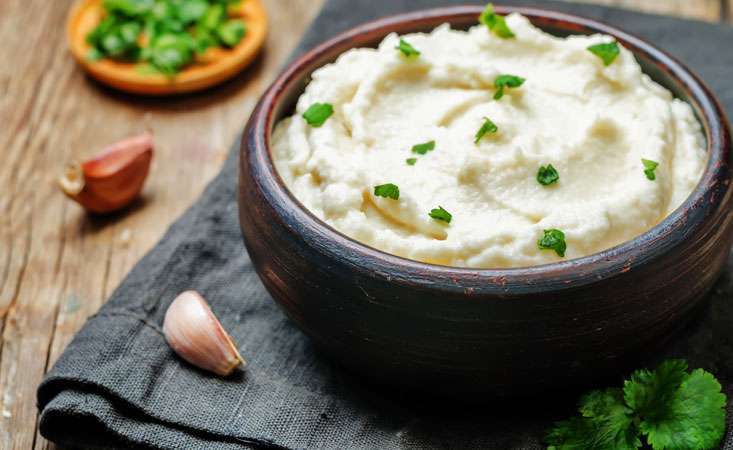 Butter. Heavy cream. Sugar and more sugar. The traditional foods we're tempted with during the holidays are rich, but they can be lightened up if you're looking for a healthier approach or trying to avoid having to loosen the belt mid-meal.
The Fix consulted with contributor Maria Petzel, senior clinical dietitian for the Pancreas Surgery Program at MD Anderson Cancer Center, for her helpful hints about how to lighten up traditional holiday foods or cut back on heavy holiday meals and snacks in general.
"Though many pancreatic cancer patients may be trying to gain weight," she said, "their caregivers and family members may be trying to do the opposite to optimize their health."
Petzel served up these "light" tips:
For those trying to lose weight or avoid weight gain, butter, cheese and/or sour cream can all be added after many recipes are prepared and served.
Make "mashed potatoes" using cauliflower puree to increase your veggie intake for the day. If you're making "real" mashed potatoes, use skim milk, not whole milk, and a little salt and pepper.
Portion control is key. A good rule of thumb is to fill two-thirds of your plate with vegetables, fruits and whole grains.
Avoid eating things just because they are there. Instead of sampling five different desserts, pick the one you know you will like the best and keep your portion size small.
Perhaps the best tip of all? Cut yourself some slack, or, in other words, lighten up – if you indulge this holiday season, treat yourself. You've earned it! Don't feel guilty and don't let holiday indulging sabotage getting back on track in January.
Since each individual patient will have different nutritional needs, we recommend patients consult with a registered dietitian for nutritional advice. A dietitian or nutritionist who is familiar with cancer patients would be able to evaluate each patient's needs, help design a diet that is best for them, and answer any questions about introducing new foods or recipes.
Contact PanCAN's Patient Central
for comprehensive disease information – including our diet and nutrition booklet, nutrition tips and recipes – and help finding a registered dietitian in your area.