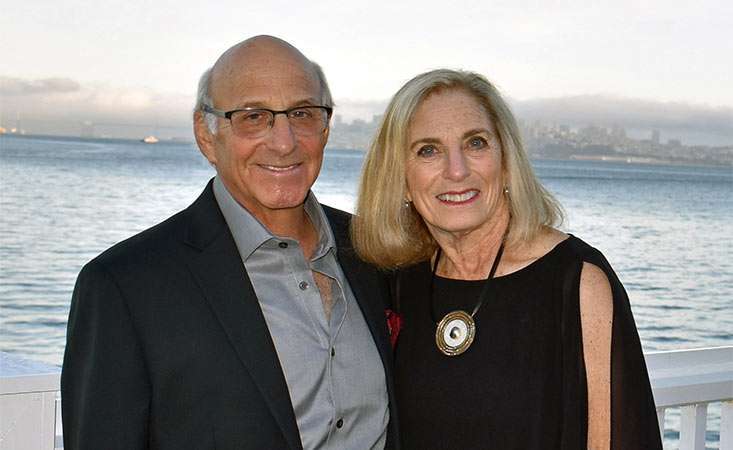 Editor's Note: Last week, we introduced you to Harriet and Gerry Berner. They decided to join forces with their cousins Cheryl and Steve Kole to support Krushna Patra, PhD, a pancreatic cancer researcher. Today, we're happy to introduce you to the Koles.
Steve Kole of Monte Sereno, Calif., has some advice for pancreatic cancer survivors and caregivers.
"This disease does not have to be a death sentence. PanCAN can be your advocate."
Steve ought to know – he's a PanCAN PurpleStride Silicon Valley Team Captain who's been fundraising since 2013. His wife, Cheryl, lost her dad to the disease. Steve lost his brother-in-law to pancreatic cancer. The couple's cousin-in-law, Gerry Berner, is a three year pancreatic cancer survivor.
"Back in the '70's, when Cheryl's dad got pancreatic cancer, it was different. There was no support," Steve said. "It's different today. Better treatment options, patient support and patient outcomes. More clinical trials, too."
Cheryl lost her dad to pancreatic cancer when he was 61.
Recently, the couple took their giving to another level. They teamed up with their cousins, Harriet and Gerry Berner to support the research of Krushna Patra, PhD, with a PanCAN 2020 Career Development Award.
The result is the 2020 Pancreatic Cancer Action Network Career Development Award, funded by Steven & Cheryl Kole and Harriet & Gerald Berner Family Charitable Fund.
Steve learned about PanCAN through his friend and colleague, Diane Borrison, a 14-year pancreatic cancer survivor and long-time PanCAN volunteer and advocate in PanCAN's Silicon Valley Affiliate of volunteers.
Cheryl shared that their connection to PanCAN deepened when the couple met with staff at PanCAN's National Headquarters early this year. She said it reinforced their belief that PanCAN is doing all the right things to provide patient services and use donations for research to put an end to this disease.
Steve said, "There's a feeling of family there. It's not just a job for its staff, it's their personal mission. You can feel it. Anything I can do to further PanCAN's mission, I will."
While Steve understands the importance of contributing to an organization's general operations ("PanCAN is a very fiscally responsible organization – there's no waste there"), he said, "it's quite another thing to put dollars directly into a researcher's hands. Cheryl and I feel honored to be able to do this."
Outside of his involvement with PanCAN, Steve is an active partner in two national direct sales companies. Cheryl enjoys graphic design and has volunteered helping children in the local ICU.
Both are physically active and begin each day with a two-hour gym workout. In addition, Steve cycles regularly with a group of men and the couple play golf.
Steve and Cheryl are devoted to their three grandchildren, ages 11, 13 and 15, who live nearby.
Steve said it's a powerful equation when donors team up with researchers. "Researchers can see the faces of who is supporting the mission and donors can feel closer to the solution. We hope to meet Dr. Patra one day."
Cheryl said, "This is a cause we really believe in. PanCAN is doing great things for so many people."
Give
to PanCAN and give pancreatic cancer patients a chance at better outcomes.