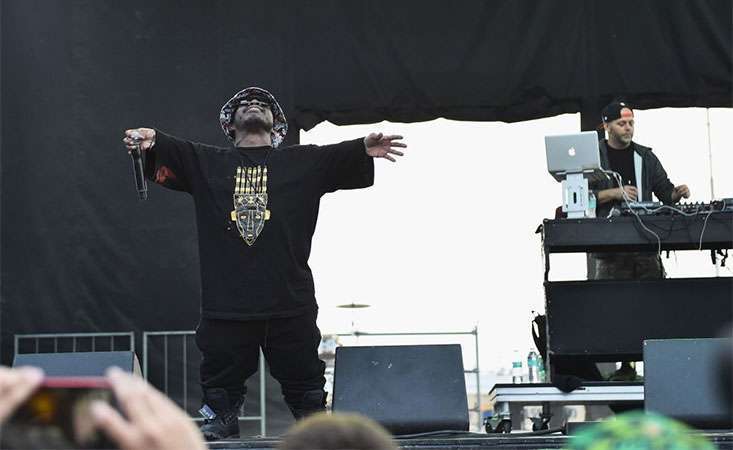 Rapper Bushwick Bill, a founding member of the Geto Boys, died on Sunday evening, according to his publicist. He was 52 years old.
Bill was diagnosed earlier this year with stage IV pancreatic cancer.
Born Richard Shaw in Kingston, Jamaica, the artist moved to Bushwick in Brooklyn, New York, as a young child, giving him his stage name "Bushwick Bill." The Houston-based Geto Boys launched in the 1980s and included bandmates Scarface and Willie D. Among their biggest hits are "Mind Playing Tricks on Me" and "Six Feet Deep."
There was talk of a farewell tour just a few weeks ago with a portion of the proceeds benefitting pancreatic cancer awareness. But Bill pulled out just days before it was to begin unhappy with the tour headline, The Beginning of a Long Goodbye: The Final Farewell.
According to the Los Angeles Times, Bill said he was working on new music because "I notice when most celebrities pass, they really don't have nothing set up for their children and everything's in disarray. So I figure, old music will sell but if I have new music for them … at least they will have residual income from those things."
Bill was admitted to the hospital on May 24, where he posted updates on his health and had hoped to embark on his own solo tour benefitting cancer patients. Sadly, the tour did not happen.
"Our hearts go out to the family, friends and fans of Bushwick Bill," said Julie Fleshman, JD, MBA, president and CEO of the Pancreatic Cancer Action Network (PanCAN). "Pancreatic cancer does not discriminate. And we are working diligently to change outcomes for patients, but we need more people to get involved and help fund critical research."
Pancreatic cancer has the lowest five-year survival rate of any major cancer in the United States at only 9 percent. In 2019, more than 56,000 people will be diagnosed and approximately 45,000 will die from the disease. Additionally, the African-American community has the highest incidence rate of pancreatic cancer, up to 67 percent higher than the incidence rates for other racial/ethnic groups.
Bill joins a growing list of other notable public figures, including actors and musicians who've passed away from pancreatic cancer.
On behalf of Bill and other patients like him, PanCAN will continue to work diligently to double survival and improve patient outcomes.
Contact Patient Central
with questions about pancreatic cancer risk factors and for other information and resources pertaining to the diagnosis and treatment of pancreatic cancer.