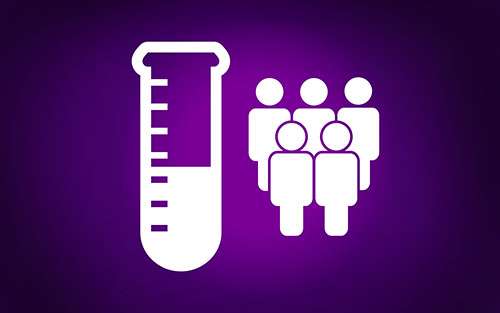 A news article originally published in USA Today explored the relatively low number of Hispanics who enroll in clinical trials and the implications.
According to the article, "Less than 8 percent of enrollees are Hispanic, even though Hispanics comprise 17 percent of the population," said Dr. Eliseo Pérez-Stable, director of NIH's National Institute on Minority Health and Health Disparities.
As a result, this demographic has less access to leading-edge treatments, and researchers have less data on how an experimental drug works within that population. The article goes on to say that minorities in general are represented at a low rate in clinical trials.
We asked oncologist Manuel Hidalgo, MD, PhD, of Beth Israel Deaconess Medical Center in Boston, a member of our Scientific and Medical Advisory Board, and a member of our Precision PromiseSM leadership team, to share his thoughts on the subject.
PanCAN: Why should Hispanics care about this issue – are there reasons beyond what the article lays out?
Dr. Hidalgo: The reasons cited in the article are accurate. Besides the fact that these patients may be losing the opportunity to be treated with cutting-edge new strategies for incurable disease, it's problematic because more and more, we learn that cancers may behave differently in different racial backgrounds and that response to treatments may not always be identical. So, we may be applying treatments to populations based on results from studies that do not have enough patients representing that population and that may, therefore, not be 100 percent applicable.
PanCAN: What more can be done among minorities, and Hispanics in particular, to express the importance of accessing clinical trials, particularly regarding pancreatic cancer trials?
Dr. Hidalgo: First, I encourage the Hispanic community to take this seriously. There are quite a few reasons enrollment is low. On one hand, there may be a lack of access to care in general for groups that have lower income and are underserved. There is also clearly a language barrier. I think – and have experienced in my own practice – that there also can be cultural barriers. Hispanic patients may be expecting the doctor to tell them what to do and are shocked when he or she says they do not have a firm recommendation and that a study, in which a new treatment is being explored, may be the best option. Some patients react negatively to that proposition.
And better and rapid access to specialized care, which is linked to a proper primary care system and insurance system, is critical. Information in simple terms, and in Spanish, is also important for those less proficient in English. Finally, there is room for overall educational programs to explain what clinical trials are, how safe they are and how they can represent the best option for treatment.
PanCAN: What is the implication for pancreatic cancer treatments if trial enrollment rates do not improve?
Dr. Hidalgo: Drugs may be getting approved without researchers knowing how they work in large segments of the population. Even post-approval, studies to understand how they work across all racially diverse groups are important. We could find that some ethnic groups have a propensity toward certain toxicities for example, and that will help to implement monitoring and safety measures for that particular group.
PanCAN: Any parting thoughts on the subject of clinical trials?
Dr. Hidalgo: PanCAN should be applauded for supporting the best science and clinical trials and by providing pancreatic cancer patients and the community with resources to navigate the pancreas cancer world. You're doing an excellent job. We should all support and help out.
---
Pancreatic cancer patients who participate in clinical research have better outcomes. Every treatment available today was approved through a clinical trial. The Pancreatic Cancer Action Network strongly recommends clinical trials at diagnosis and during every treatment decision.
---
Did you enjoy this article? Read our related blog about minorities and disparities in cancer care here.
Contact PanCAN Patient Services for more information about clinical trials, or to get comprehensive disease information. Spanish-speaking PanCAN Patient Services Case Managers are available.