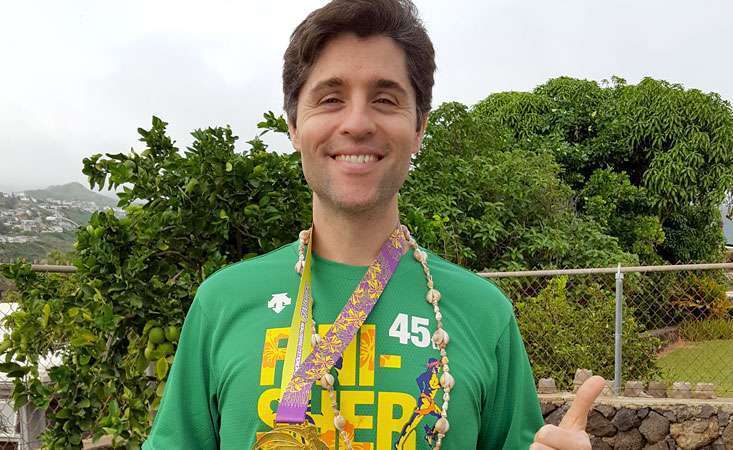 Early Sunday morning, Peter Lockyer laced up his running shoes, walked out the door and began running for his life.
"The first half was an absolute blast," said the 44-year-old from New York City. "The second half was not."
As Lockyer's legs carried him 26.2 miles through the streets of Honolulu, he realized he wasn't just running for his life, but for his mother's life, and the countless others who've been impacted by pancreatic cancer.
His mother Caroline learned she had pancreatic cancer in the summer of 2016. Her short but passionate fight against the disease ended on Christmas Eve of the same year. He ran the 2017 Honolulu Marathon to remember his mother on the one year anniversary of her death.
"Running forces you to spend a lot of time by yourself," said Lockyer. "It made me process my loss. And, as I was in pain running the marathon, I thought of my mother and how courageous she was throughout her battle with cancer. That helped carry me through."
Lockyer said the support of his friends and family also helped him get through all those miles. Together, they donated more than $2,000 to Lockyer's fundraiser for the Pancreatic Cancer Action Network (PanCAN).
Each year, nearly 54,000 Americans are diagnosed with pancreatic cancer. Of that number, more than 43,000 will die from the disease. That's why Wendy Moran, PanCAN's director of community engagement, said fundraising for pancreatic cancer awareness and research is key to saving lives. In fact, PanCAN is working to raise $200 million dollars over the next three years. The goal is to double the five-year survival rate of pancreatic cancer patients to 12-percent by 2020.
"Every dollar people like Peter raise for PanCAN goes directly toward fighting this often deadly disease," said Moran. "That money goes to everything from our education and awareness programs, to the grants we give to scientists searching for a pancreatic cancer cure."
While that cure didn't come in time to save his mother, Lockyer said he hopes that the steps he took to raise money and run can contribute to finding a cure, or at the very least better treatment options.
And while this was his first marathon and fundraiser, Lockyer said it won't be his last.
"Disease can impact anyone," said Lockyer. "We were just normal people. My mom's pancreatic cancer came out of nowhere. We were rocked – it went so fast from her diagnosis to her death. I don't want another family to go through this."
You don't have to run a marathon to help PanCAN end pancreatic cancer. Dedicate your birthday, create a tribute to a loved one, host a holiday bake-off – Wage Hope My Way makes it easy to launch your own fundraiser.