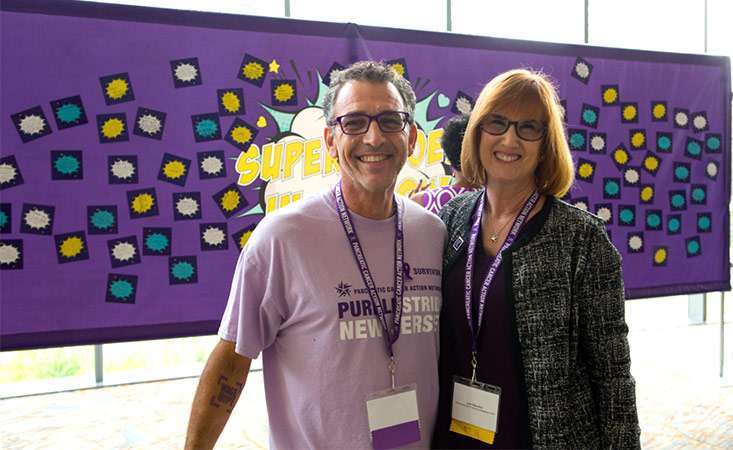 Lori Stevens is the new Chief Development and Community Engagement Officer for the Pancreatic Cancer Action Network (PanCAN). But what exactly does this role entail, and how will Stevens help further PanCAN's urgent mission to improve patient outcomes and double survival by 2020?
The veteran nonprofit and strategic management leader shines the purple spotlight on what fuels her passion, from running PanCAN's Development and Community Engagement programs to running marathons.
Lori, you're only just getting started, but what are your top-level goals in your new position here at PanCAN?
My goal is to integrate and implement the strategy for PanCAN's revenue generation. It is critical for us to lead with mission, identifying the impact our funding has on the mission. Our success relies on collaboration, so I will work closely with PanCAN partners, staff and volunteers to look at a sustainable base for support, how to tell our story well and how to create a compelling opportunity to give.
You have several decades of nonprofit experience with the American Heart Association and the American Diabetes Association. How did you prepare for this specific role at PanCAN?
For me, getting to attend the Volunteer Leadership and Scientific Summit was transformative. It was a great immersive experience to understand the volunteer, patient, caregiver and survivor point of view in terms of what their journeys looks like. It really helped me understand why people want to support the pancreatic cancer cause and why it is so urgent.
Where does your passion for the nonprofit sector come from and how does PanCAN fit into that?
I am in awe of people who give of their time, treasures and talents. I made the switch from the corporate sector to the nonprofit world because I wanted to use my corporate experience for the greater good. That's one reason I have stayed in the nonprofit workforce all these years.
When I looked at organizations, I felt it was important for me to have a cause that would really resonate, and I could "touch and feel" the impact. When people hear "pancreatic cancer" their immediate reaction is one of hopelessness. PanCAN represents the opposite of that response. Our organization mobilizes volunteers and healthcare professionals. We help arm patients, caregivers, families and friends with the information they need to empower themselves, whether that's finding a high-volume healthcare center, marching on Capitol Hill for Advocacy Day or walking in a PurpleStride.
When thinking about your new role, what are you most excited about?
I am really excited about helping PanCAN continue becoming the go-to organization for pancreatic cancer. I am surprised to learn that some of those diagnosed were not aware of us or the support or services we offer. That motivates me to want to do more. Anything we can do to become that go-to, trusted resource is going to have a hugely positive impact on people's lives.
I'm also eager to partner with our very passionate volunteers, so we can work together to move our mission forward.
You've mentioned volunteers a couple of times. What is it about them that inspires you?
Volunteer relationships throughout the years have been tremendously rewarding and meaningful to me and have kept me grounded in my work. To see all these people come to the organization for no other reason than that they want to give back – that is inspirational.
I am also in awe of all the pancreatic cancer researchers who have committed themselves to this disease. These are people who take huge problems and think of creative solutions to solve them.
When you are not at PanCAN's headquarters in Manhattan Beach, Calif., where can people find you?
I don't have hobbies, but I do have deep passions. I have been running for the past 20 years. When I first started running, I decided to do a marathon. Since then, I've run all kinds of distances. I plan to start training for my eighth marathon soon.
Also, I'm a big Disney fan and really love Disneyland. I don't live too far from the park, so I have the opportunity to experience its magic on a frequent basis!
And, I love spending time with my family and friends and traveling. I love to visit Kauai; it's where I find my balance and connect with nature.
What do you want people who read this post to remember?
I'm awestruck by the daily commitment that people make to support this cause. It is truly a gift, an absolute gift. Throughout my career, I've heard people say, "I'm just a volunteer." The thing is, you are never just a volunteer. You are the ambassador, you are the spiritual leader, you are the evangelist and missionary of who PanCAN is. You are the reason we remain hopeful in what can be a tremendously difficult path.
I also want people to know that every time I must make a decision, I ask myself, "How does this help someone with pancreatic cancer?" If we can always go back to that understanding, we really can achieve the impossible.
PanCAN is the only organization with a nationwide grassroots army, inspiring over one million people to take action and accelerate progress in the fight to end pancreatic cancer. Learn more about how you can Demand Better for patients by
volunteering in your community
!