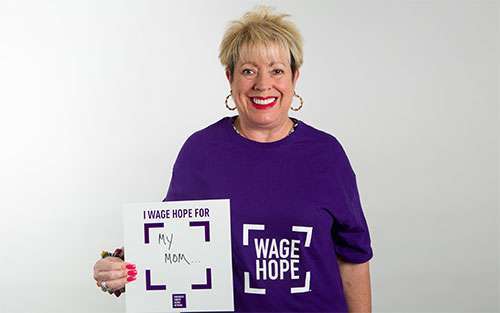 Editor's note: Listen to Pam's interview this Saturday, Sept. 2 on AM 980 The Mission at 5 p.m. CDT or this Sunday, Sept. 3 on AM 1280 The Patriot at 6 p.m. CDT.
Pancreatic Cancer Action Network (PanCAN) founder Pamela Acosta Marquardt was featured on Like It Matters Radio today.
Like It Matters Radio is powered by iHeart Radio in Minnesota. Marquardt spoke with host Scott Black about her mother, Rose Schneider, who died just six months after being diagnosed with pancreatic cancer in June 1996. She was 68.
Marquardt transformed her loss and grief into hope by establishing the Pancreatic Cancer Action Network in 1999.
"Pancreatic cancer took her life, but her life mattered in such a way to inspire a movement," Marquardt said.
Today, PanCAN has a nationwide grassroots network of over one million people attacking this disease on all fronts through advocacy, clinical initiatives, research and patient services.
Throughout the interview, Marquardt also explained why pancreatic cancer is the world's toughest cancer, which currently claims the lives of 91 percent of its victims within five years in the U.S.
"The pancreas is deep within your abdomen, and so many times the symptoms you have are vague and can easily be attributed to something else," Marquardt explained. "By the time it's diagnosed, it has already spread."
Marquardt encouraged listeners who know of anyone affected by the disease to contact PanCAN Patient Services at 877-2-PANCAN and visit pancan.org for resources and support. PanCAN Patient Services Case Managers speak with more patients and caregivers than any other pancreatic cancer organization in the world.
"We really need to focus on early detection methods and effective treatment options," Marquardt added, which is a part of PanCAN's urgent mission to double survival by 2020.
Before the interview closed, Marquardt urged listeners to end pancreatic cancer by participating in PurpleRideStride Minnesota on September 16. Black also created a virtual team – Team Like It Matters – for the event that his listeners can join.
Listen to the full interview:

To register for a local PurpleStride® near you, visit purplestride.org.