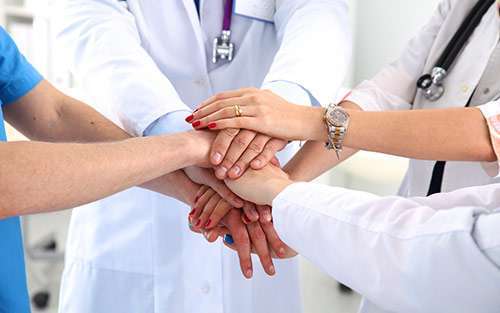 The Pancreatic Cancer Action Network (PanCAN) is excited to launch Precision PromiseSM in 2019. Precision Promise is the first adaptive clinical trial platform for pancreatic cancer patients in the world and PanCAN's groundbreaking initiative to dramatically improve patient outcomes and advance the organization's goal to double survival by 2020.
Recently, PanCAN hosted a Precision Promise Leadership and Clinical Trial Consortium (CTC) meeting in San Francisco. The meeting brought together Precision Promise committee members, the principal investigators from the CTC sites and industry partners to discuss the progress and status of the initiative.
"What is so incredible about this effort is that we are doing things that have never been done before," explains Victoria Manax, MD, chief medical officer at PanCAN. "Bringing together such a knowledgeable group of experts – we are working together to design clinical trials to better benefit patients."
Progress has been too slow for patients. Advancements have been made in the lab, but these findings haven't always quickly and efficiently translated into the clinical trial setting to determine patient benefit. The system needs to be improved.
This is why PanCAN is leading Precision Promise to improve the clinical trial system to learn faster, design smarter clinical trials and be more patient-centric. Precision Promise will simultaneously test multiple cutting-edge therapeutic options, compared to traditional trials that test only one or two treatments at the same time.
"Face-to-face gatherings of the experts involved are important to keep everyone up-to-date, while also gaining invaluable input and ensuring that our planning process is on target and includes all aspects needed for successful collaboration," explains Julie Fleshman, JD, MBA, president and CEO of PanCAN.
The meeting included robust discussion on key topics, including the patient-centric aspects of the trial, data sharing and opportunities for research publication and authorship. Through Precision Promise, data from the CTC sites will be securely and centrally collected and analyzed together on an ongoing basis so that scientific findings are reached quickly and disseminated to the research community in a timely manner.
As a compelling feature, there was also a presentation by special guest, Mark Trusheim, visiting scientist at the MIT Sloan School of Management and a member of the MIT Center for Biomedical Innovation. Trusheim is a thought leader in the economics of biomedical innovation, especially precision medicine, adaptive pathways and their enablement by digital health advances. After Trusheim participated in the meeting, he shared inspiring remarks to the group over dinner.
"Precision Promise brings never-before-seen scale and speed to pancreatic cancer therapeutic development to help deliver on PanCAN's goal to improve patient outcomes," stated Trusheim. "And it goes beyond that; Precision Promise is a model that can be used for other diseases, too."
Reflecting on the event overall, Manax added, "We all have the same goal in mind, and it's a very big, bold goal. Coming together builds trust and reinvigorates everyone's enthusiasm for what we are trying to achieve."
Precision Promise is a top priority of PanCAN's. The organization is making progress every day, and the timeline to launch in 2019 ensures that Precision Promise is sustainable and robust in advancing novel treatments for all those facing pancreatic cancer.
Patients with pancreatic cancer should not delay treatments. If you or a loved one has been diagnosed with pancreatic cancer, please call PanCAN Patient Services to learn about potential clinical trial options that are available to you now.