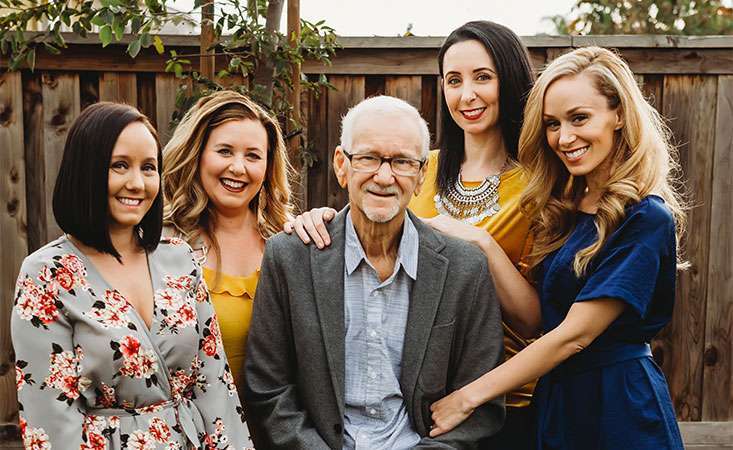 Editor's note: Our "It Starts with Someone" series chronicles all kinds of Pancreatic Cancer Action Network (PanCAN) supporters – volunteers, survivors, caregivers, advocates, researchers – and describes the "someone" who has impacted their efforts in the fight against pancreatic cancer. Tom Russo's "someones" are his daughters. This is their story.
During their childhood and well into their adult lives, the Russo women cannot remember a time their father, Tom Russo, wasn't there for them. Whether he was attending performances or sports games, or helping solve homework problems or boy troubles, Liz Russo and her sisters appreciate their dad for molding them into the women they are today. And the feelings are mutual, as Tom Russo relies on his daughters for strength and support, too.
"I'm just so very proud of them," said Tom Russo, who was diagnosed with pancreatic cancer in March 2017. "They are always there for me. They take care of me as needed. They are truly angels sent from heaven."
"Being there for him now is the greatest repayment that we can offer," said Whitney Ramirez, the eldest of the Russo sisters. "After taking care of us all our lives, it's the absolute least we can do. He deserves nothing less in our eyes."
After his diagnosis, Tom has fought the disease with a variety of treatments, including an attempted Whipple procedure, receiving care from specialists at high-volume centers, and undergoing chemotherapy. Through it all, at least one of his four daughters has been by his side every step of the way.
"We are just a normal family doing everything we possibly can to save my father's life," said Liz Russo, who co-wrote the song "Hope's Alive" as an anthem for her dad and her family. She and singer Erin Willett dedicated the song to the thousands of patients, caregivers and families who have faced pancreatic cancer. "It's tough because we woke up one day and our lives changed forever. We just have to stick together and work as a team so we can give my dad every chance he has to beat this."
Part of their strategy – make every day special and meaningful. Whitney quit her job to provide full-time care for their father. Liz often travels from her home in Los Angeles to Oakley, Calif., to help with caregiving as well. The daughters pitch in by taking care of household chores, attending doctor appointments and whipping up healthy meals in the kitchen. Aside from sharing in caring for their dad, the Russo women also created @DadsDailyDose, an Instagram account to document Tom's journey through stage II pancreatic cancer.
"We have been well aware since day one what devastation this disease can have on a family," Ramirez said. "Every day we still get to spend with him is something to be celebrated. Every time he defies the odds by walking out of the hospital, when his doctors have said he may not, is a milestone. We celebrate the little things, experiences that normally would be taken for granted -- eating, drinking, walking -- things that are a very big deal when dealing with a disease that will rob you of all those 'normal' daily routines."
The next milestones – the Pancreatic Cancer Action Network's (PanCAN) PurpleStride San Francisco, followed by Father's Day. The daughters aren't sure their dad will be strong enough to attend the popular 5K walk to end pancreatic cancer, but like most things in their lives right now, if he can't do it, they will step in for him.
And when it comes to Father's Day, Liz Russo said that's a milestone they have covered due to their new outlook on life.
"This Father's Day will just be another reason to celebrate him being here, but the reality is, when your dad is battling something like pancreatic cancer, every day becomes Father's Day."
The Russo Daughters' Tips for Father's Day (and the other 364 days of the year)
Try to do something special for your loved one.
We try to help my dad forget he has a disease. When someone gets sick, everything becomes about their illness. Sometimes it's hard to go back to before the diagnosis and be normal. Some days, we agree not to talk about disease, or to do something fun like we used to.
Let your loved one dictate how much or how little they want to do.
Try to be a good listener and respect the fact that your loved one is sick. Sometimes it's really hard because we want to do everything we can to make our dad better, but it's important that he has control over what we do, whether it's an outing or a new treatment. We take a step back and remind ourselves to let him do what he wants, because this is his disease. We let him go through his process.
Get caregiver support.
We use message boardsto talk to other people going through similar situations. It's inspiring to hear other people's stories and to know there is a community of people going through the same thing you are.
Join our fight and learn the risk factors so you can help others.
Whether it's donating your time as a volunteer, or your money as a PurpleStride or Wage Hope My Way donor, any support you give to PanCAN helps all of us – the volunteers, advocates and researchers – get closer to our goal of doubling survival by 2020.
Patient Central is the place to contact when facing pancreatic cancer as a patient or caregiver. Highly trained and compassionate Associates provide free, personalized information about the disease, including support services.
Contact a Patient Central Associate
today!