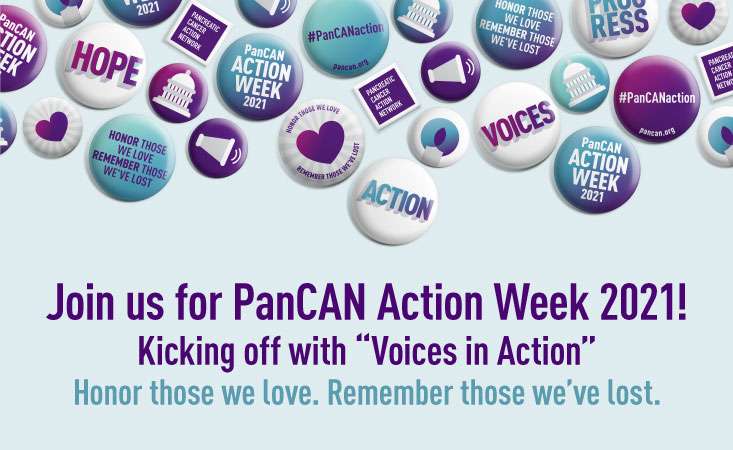 Let's come together!
You're invited to join the largest-ever gathering of pancreatic cancer survivors and advocates from across the country – people passionate about changing the future of pancreatic cancer – for PanCAN Action Week 2021.
PanCAN Action Week kicks off with "Voices in Action" on June 14, an inspiring virtual evening event of heartfelt stories – from survivors, families, researchers, members of Congress and special guests – about who they advocate for and why. Participants can honor those they love and remember those they've lost to the disease, in a moving tribute closing the event.
Participants will also hear how to take action and advocate for more federal research funding for pancreatic cancer, which is key to making progress in pancreatic cancer and improving patient outcomes.
Hosting are "Star Trek" actors Jonathan Frakes, Kitty Swink and Armin Shimerman.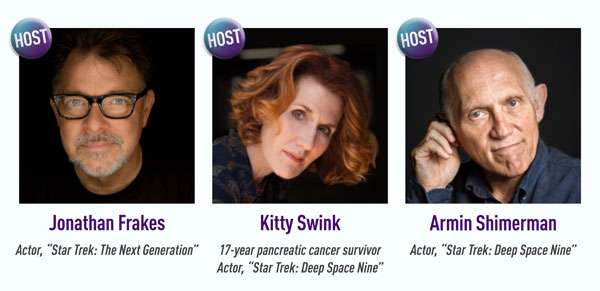 The three are connected not only through their work, but because they have faced pancreatic cancer personally. Kitty is a 17-year pancreatic cancer survivor, and Jonathan lost his brother to pancreatic cancer. Armin is Kitty's husband and number-one fan.
During "Voices in Action," they will share their personal stories. Other special guests will also share stories of inspiration and hope.
PanCAN Action Week 2021 continues June 15 and 16, when we all go to Congress with a unified message about why ongoing, increased research funding for pancreatic cancer is critical. Be on the lookout for more information as we get closer to Action Week!
"We can all be advocates and have an impact in our mission to improve the lives of patients and everyone impacted by pancreatic cancer," said Julie Fleshman, JD, MBA, president and CEO, PanCAN.
"One person can make a big difference, but together, we can do so much more."
We're all advocates – you included!
Take action today
and make progress for pancreatic cancer patients.